I received this book for free from the publisher in exchange for an honest review. This does not affect my opinion of the book or the content of my review.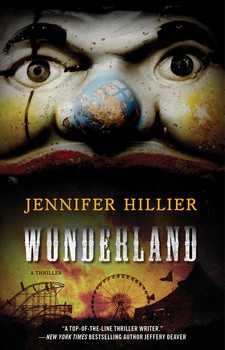 Wonderland by Jennifer Hillier
Published by Pocket Star on October 5, 2015
Genres: Thriller
Pages: 338
Format: eBook
Source: the publisher

Vanessa Castro is attempting to start a new life with her two children, John-John and Ava, in the small town of Seaside, Washington. Her departure from Seattle was a scandalous one, so this fresh start is a welcomed one.

Unfortunately, her first day as deputy police chief begins with a homicide. An unidentified homeless man is found on the grounds of Wonderland, the small town's main tourist attraction.  To make matters worse, a Wonderland employee who posted a picture of himself standing on top of the Wonder Wheel has gone missing. The photograph has now gone viral, as has the news of the dead homeless man, referred to as "Headless Harry" due to the state of his body upon discovery.  As Vanessa launches the investigation into these most recent crimes, she finds herself going down a path of multiple missing persons and a small town with a knack for keeping secrets if it means protecting Wonderland.  Rather that starting a new life for her family, she finds she's inserted them into a twisted killer's haunting grounds.
I know I'm not alone when I say that there's something about an amusement park, after hours, that terrifies me.  A setting that was once filled with lights and sounds and squeals of laughter and excitement is now replaced with one that is cold, dark, and terrifying. Let's not get started on the clowns.
Jennifer Hillier has the tremendous talent of creating the most horrific and terrifying individuals, not because they are some hideous monster or beast, but because they are, on the outside, a normal, everyday person. This rings true with the killer(s!?) in Wonderland.  As I read I thought I'd uncovered the identity of the brutal killer (and admittedly was a little disappointed that it was so easy) only to find out that, holy sh*t, this small town is full of crazed killers.  I sat back in awe when it was all revealed. The ability to do this, to take me by surprise, is a clear sign of some pretty talented writing.  I've been a fan of Hillier's writing from the beginning, with Creep, The Butcher, and Freak still giving me the heebie jeebies.  But what makes Wonderland stand out from the others? The terror that it exudes is more psychological, oftentimes more terrifying than physical.
I'm thrilled to have watch this author grow and mature as a writer.  The path has been terrifying (only due to the subject matter!) but has been completely rewarding and fun, in a dark and twisty kind of way. I  can't wait to see what she comes up with next!!
Though this is an ebook only release, it's a steal at $1.99.  It's a must-read for this Halloween season. The perfect book to curl up with on a cold, fall day!  Highly, highly recommended!