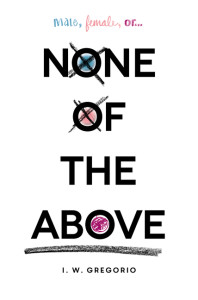 None of the Above by I. W. Gregorio
Published by Harper Teen on April 7, 2015
Format: Audiobook

Kristin Lattimer is your typical teen. She's active in sports, her success on the track team has allowed awarded her with a full college scholarship. Though she lost her mother to cervical cancer a few years ago, she has an incredible support system of friends and loved ones. She's ready to take her relationship with her boyfriend a step further...and that's when everything changes.   She knows the first time is painful, but the pain she experiences is so great she knows something is wrong.

Her first visit to a gynecologist  alludes to a traumatic and devastating diagnosis.  Kristin is intersex: her internal female sexual organs are non-existent. Despite outwardly looking female, her internal sexual organs and her chromosomes are male.

This diagnosis is a blow to Kristin, forcing her to re-evaluate her identity.  Before she has a chance to come to terms with her diagnosis, her entire school learns the truth.  Now Kristin is forced to deal not only with a life-changing diagnosis, but the public judgement of her peers around her.
When this audio was recommended to me, I was anxious and also exhilarated.  I'm thrilled that this subject matter is making an appearance in young adult fiction.  My concern was with the technical/medical aspect. Would the author get it right, without weighing readers/listeners down with all the medical lingo?
Before I even began to listen to the audiobook, I went to the author's bio. What gave her the experience, the knowledge to write such a title. This is a tough subject to embrace and discuss, and before I became invested, I wanted to know the author knew what she was talking about.  Turns out she does! I.W. Gregorio is a practicing surgeon.  It is during her residency that she met an intersex patient who inspired her to write this novel.  She's also a founding member of We Need Diverse Books™. I was sold.
And so I began my listen, and from the very first few minutes,  my attention was instantly rapt, completely and thoroughly immersed in Kristin's story.  Though there were times when her actions had me yelling at the top of my lungs (I'm sure other drivers thought I was losing my mind), I think my emotional response was so strong because I felt such strong empathy for Kristin. I have all my lady parts, but the fact that she lost her mother, and is now dealing with this very difficult thing without a mother, tore at my soul.  Ironic, perhaps, that the very piece of anatomy that took her mom from her is now absent in her own body.
This is a novel that will be talked about. It covers a wide range of themes, including homophobia, transphobia, cyber-bullying and more. Gregorio brings out the most cruelest parts of society and shows that, despite being different than those around her, that Kristin shouldn't remove herself from society because of her differences, but instead embrace them, make her own mold in society.
Caitlin Davies' narration adds another dimension to this experience, perfectly capturing the intensity and overwhelming emotion Kristin is facing. She brings each of the characters to life, able to differentiate between the characters with ease.
Bottom line: this is a novel that will give you all of the feelings: rage, anger, sadness, frustration, and joy. It's a powerful book with lasting impact. Highly, highly recommended.