School is over and our crazy, hectic schedule is slowing down a bit. Ahhh, summer is truly here. Weekends are spent cooking out and sitting on the patio with a book in hand.  One would think the publishing world would slow down a bit with books but alas, the opposite seems to be the case.  Quite a few books are coming out in July that I'm excited about.  
So, hide (or take out!) your wallets! I've included the publisher's summary and an opportunity to preorder by clicking on the book title or image!
How to Tell Toledo from the Night Sky by Lydia Netzer (July 1)
Beyond the skyline of Toledo stands the Toledo Institute of Astronomy, the nation's premier center of astronomical discovery and a beacon of scientific learning for astronomers far and wide. One of these is George Dermont, a dreamer and a man of deep faith, who's trying to prove the scientific existence of a Gateway to God, and speaks to ancient gods and believes they speak back. Its newest star is Irene Sparks, a pragmatist and mathematician invited to lead the Institute's work on a massive superconductor being constructed below Toledo. This would be a scientist's dream come true, but it's particularly poignant for Irene who has been in self-imposed exile from Toledo and her estranged alcoholic mother, Bernice. When Bernice dies unexpectedly, Irene resolves to return to Toledo, and sets in motion a series of events which place George and Irene on a collision course with love, destiny and fate.
George and Irene were born to be together. Literally. Their mothers, friends since childhood, hatched a plan to get pregnant together, raise the children together and then separate them so as to become each other's soulmates as adults. Can true love exist if engineered from birth?
The Skeleton Crew: How Amateur Sleuths Are Solving America's Coldest Cases by Deborah Halber (July 1)
The Skeleton Crew provides an entree into the gritty and tumultuous world of Sherlock Holmes–wannabes who race to beat out law enforcement—and one another—at matching missing persons with unidentified remains. In America today, upwards of forty thousand people are dead and unaccounted for. These murder, suicide, and accident victims, separated from their names, are being adopted by the bizarre online world of amateur sleuths. It's DIY CSI. The web sleuths pore over facial reconstructions (a sort of Facebook for the dead) and other online clues as they vie to solve cold cases and tally up personal scorecards of dead bodies. The Skeleton Crew delves into the macabre underside of the Internet, the fleeting nature of identity, and how even the most ordinary citizen with a laptop and a knack for puzzles can reinvent herself as a web sleuth
Grand Central: Original Stories of Postwar Love and Reunion (July 1)
Ten of the finest voices in women's fiction today share stories set on the same day after the end of World War II at one of New York City's most iconic landmarks…
A war bride awaits the arrival of her GI husband at the platform…
A Holocaust survivor works at the Oyster Bar, where a customer reminds him of his late mother…
A Hollywood hopeful anticipates her first screen test and a chance at stardom in the Kissing Room…
On any particular day, thousands upon thousands of people pass through New York City's Grand Central Terminal, through the whispering gallery, beneath the ceiling of stars, and past the information booth and its beckoning four-faced clock, to whatever destination is calling them. It is a place where people come to say hello and good-bye. And each person has a story to tell. Now, ten bestselling authors inspired by this iconic landmark have created their own stories, set on the same day, just after the end of World War II, in a time of hope, uncertainty, change, and renewal….
Featuring stories from
Melanie Benjamin, New York Times bestselling author of The Aviator's Wife
Jenna Blum, New York Times bestselling author of Those Who Save Us
Amanda Hodgkinson, New York Times bestselling author of 22 Britannia Road
Pam Jenoff, bestselling author of The Ambassador's Daughter
Sarah Jio, New York Times bestselling author of Blackberry Winter
Sarah McCoy, bestselling author of The Baker's Daughter
Kristina McMorris, New York Times bestselling author of Bridge of Scarlet Leaves
Alyson Richman, bestselling author of The Lost Wife
Erika Robuck, critically acclaimed author of Hemingway's Girl
Conversion by Katherine Howe (July 1)
It's senior year at St. Joan's Academy, and school is a pressure cooker. College applications, the battle for valedictorian, deciphering boys' texts: through it all, Colleen Rowley and her friends are expected to keep it together. Until they can't.
First Clara Rutherford starts having loud, uncontrollable tics in the middle of class. More students and stranger symptoms follow: seizures, body vibration, violent coughing fits. The media descends on Danvers, MA, as school officials, angry parents and the board of health scramble to find something, or someone, to blame. Pollution? Stress? Or are the girls faking? But Colleen—who's been reading The Crucible for extra credit—comes to realize what nobody else has: Danvers was once Salem Village, where another group of girls suffered from a similarly bizarre epidemic three centuries ago….
The String Diaries by Stephen Lloyd Jones (July 1)
A family is hunted by a centuries-old monster: a man with a relentless obsession who can take on any identity. The String Diaries opens with Hannah frantically driving through the night–her daughter asleep in the back, her husband bleeding out in the seat beside her. In the trunk of the car rests a cache of diaries dating back 200 years, tied and retied with strings through generations. The diaries carry the rules for survival that have been handed down from mother to daughter since the 19th century. But how can Hannah escape an enemy with the ability to look and sound like the people she loves? Stephen Lloyd Jones's debut novel is a sweeping thriller that extends from the present day, to Oxford in the 1970s, to Hungary at the turn of the 19th century, all tracing back to a man from an ancient royal family with a consuming passion–a boy who can change his shape, insert himself into the intimate lives of his victims, and destroy them. If Hannah fails to end the chase now, her daughter is next in line. Only Hannah can decide how much she is willing to sacrifice to finally put a centuries-old curse to rest.
Forty Acres by Dwayne Alexander Smith (July 1)
What if overcoming the legacy of American slavery meant bringing back that very institution? A young black attorney is thrown headlong into controversial issues of race and power in this page-turning and provocative new novel.
Martin Grey, a smart, talented black lawyer working out of a storefront in Queens, becomes friendly with a group of some of the most powerful, wealthy, and esteemed black men in America. He's dazzled by what they've accomplished, and they seem to think he has the potential to be as successful as they are. They invite him for a weekend away from it all—no wives, no cell phones, no talk of business. But far from home and cut off from everyone he loves, he discovers a disturbing secret that challenges some of his deepest convictions…
Martin finds out that his glittering new friends are part of a secret society dedicated to the preservation of the institution of slavery—but this time around, the black men are called "Master." Joining them seems to guarantee a future without limits; rebuking them almost certainly guarantees his death. Trapped inside a picture-perfect, make-believe world that is home to a frightening reality, Martin must find a way out that will allow him to stay alive without becoming the very thing he hates.
One Plus One by JoJo Moyes (July 1)
Suppose your life sucks. A lot. Your husband has done a vanishing act, your teenage stepson is being bullied, and your math whiz daughter has a once-in-a-lifetime opportunity that you can't afford to pay for. That's Jess's life in a nutshell—until an unexpected knight in shining armor offers to rescue them. Only Jess's knight turns out to be Geeky Ed, the obnoxious tech millionaire whose vacation home she happens to clean. But Ed has big problems of his own, and driving the dysfunctional family to the Math Olympiad feels like his first unselfish act in ages . . . maybe ever.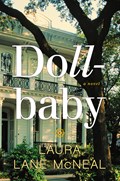 Dollbaby by Laura Lane Mcneal (July 3)
When Ibby Bell's father dies unexpectedly in the summer of 1964, her mother unceremoniously deposits Ibby with her eccentric grandmother Fannie and throws in her father's urn for good measure. Fannie's New Orleans house is like no place Ibby has ever been—and Fannie, who has a tendency to end up in the local asylum—is like no one she has ever met. Fortunately, Fannie's black cook, Queenie, and her smart-mouthed daughter, Dollbaby, take it upon themselves to initiate Ibby into the ways of the South, both its grand traditions and its darkest secrets.
 
For Fannie's own family history is fraught with tragedy, hidden behind the closed rooms in her ornate Garden District mansion. It will take Ibby's arrival to begin to unlock the mysteries there. And it will take Queenie and Dollbaby's hard-won wisdom to show Ibby that family can sometimes be found in the least expected places.
 
For fans of Saving CeeCee Honeycutt and The Help, Dollbaby brings to life the charm and unrest of 1960s New Orleans through the eyes of a young girl learning to understand race for the first time.
California by Edan Lepucki (July 8)
The world Cal and Frida have always known is gone, and they've left the crumbling city of Los Angeles far behind them. They now live in a shack in the wilderness, working side-by-side to make their days tolerable in the face of hardship and isolation. Mourning a past they can't reclaim, they seek solace in each other. But the tentative existence they've built for themselves is thrown into doubt when Frida finds out she's pregnant.

Terrified of the unknown and unsure of their ability to raise a child alone, Cal and Frida set out for the nearest settlement, a guarded and paranoid community with dark secrets. These people can offer them security, but Cal and Frida soon realize this community poses dangers of its own. In this unfamiliar world, where everything and everyone can be perceived as a threat, the couple must quickly decide whom to trust.

A gripping and provocative debut novel by a stunning new talent, California imagines a frighteningly realistic near future, in which clashes between mankind's dark nature and deep-seated resilience force us to question how far we will go to protect the ones we love.
The Competition by Marcia Clark (July 8)
 A Columbine-style shooting at a high school in the San Fernando Valley has left a community shaken to its core. Two students are identified as the killers. Both are dead, believed to have committed a mutual suicide. In the aftermath of the shooting, LA Special Trials prosecutor Rachel Knight teams up with her best girlfriend, LAPD detective Bailey Keller. As Rachel and Bailey interview students at the high school, they realize that the facts don't add up. Could it be that the students suspected of being the shooters are actually victims? And if so, does that mean that the real killers are still on the loose? A dramatic leap forward in Marcia Clark's highly acclaimed Rachel Knight series, The Competition is an unforgettable story that will stay with readers long after the last page has been turned.
Can you believe this just covers the first week of July releases? An insane amount of excellent books are releasing in July! Stay tuned for the second half of my most anticipated books of July list tomorrow!