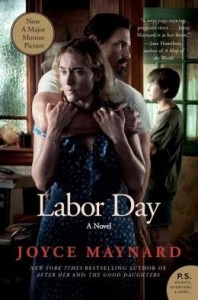 Yesterday evening, I led the fiction book club at One More Page books in our discussion of Labor Day by Joyce Maynard.
To start off the meeting, we enjoyed a delicious pie baked by Tiffany, one of the book club members. She didn't use a recipe, instead baking the pie based on the information relayed in the book.  This picture can't capture just how delicious it was! Even better, it was still warm from the oven!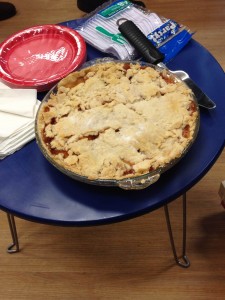 After the delicious pie, we began our discussion. Following are the major points we discussed:
Despite the author's explanation, we couldn't accept that Adele would offer to give Frank a ride, then allowing them in their home. She was a homebody, only leaving the house once every several weeks. Additionally, we felt that her past of miscarriages and stillbirths would cause her to be overly protective of Henry, the one child she does have. Then, to have a consensual sexual relationship with Frank seemed a bit far-fetched. We all admitted to being able to suspend disbelief while reading fiction but, for many of us, this was one thing we couldn't get over.
There were a few members who admitted to forming a crush on Frank. We won't mention any names
The book implies that this all happened on Labor Day weekend. Again, a little difficult to accept. A great deal transpired in that one weekend if that was the case. Maybe a little too much, hence our disbelief.
While many were able to get over the far-fetched aspects of this novel and become enamored with the story, there were still quite a few that couldn't get over these issues. Personally, I couldn't get over them either but instead focused my reading of the book around Henry's passages. To me, it seemed the only way I could really see past all the issues and it was Henry's story that seemed the most genuine and believable to me.
As the moderator of the book club. I am glad we did step outside my "comfort zone" and read a book I probably wouldn't have picked otherwise. The bottom line, however (and it's really difficult to admit to this!) is that we tend to think the movie will be better than the book, as if it how this story was meant to be told.
We're planning on seeing the movie together as a group in the next few weeks. I'll report back then & let you know our thoughts!
Have you read the book and seen the movie? What did you think? Oh, and OMP book club members! If I left anything out about our discussion, please do add it in the comments below!