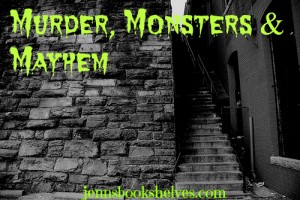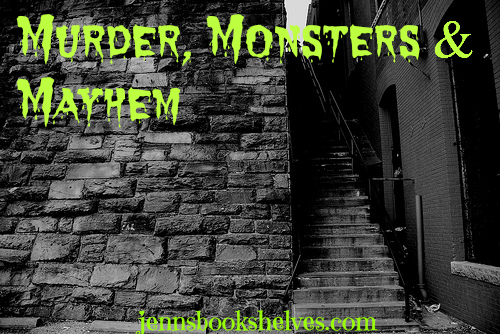 I know, I know. Halloween is over! That said, I received so many great contributions to The First Book to Terrify Me! series that I couldn't turn them away! I will continue to feature them over the next few Saturdays!
Middle Grade Shivers: The House with a Clock in Its Walls, by John Bellairs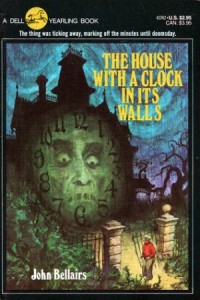 It was a dark and stormy night. And actually, it really was a dark and stormy night the night I first read John Bellairs' 
The House with a Clock in Its Walls
 – or at least, that's what my memories tell me.
I was sitting in my special armchair in the living room. It wasn't really my armchair, but I liked to sit there to read, with an apple or two by my side. In those days, I was always munching apples while I read – totally unaware of how good they were for me, of course.
I pulled The House with a Clock in Its Walls out of the big duffel bag I used just for library books. I was ten at the time, and that duffel bag – I can see it now, with its beige canvas and brown leather straps – was nearly as wide as I was tall. It was a big bag. Because I needed a big bag. Even back then, going to the library was like going on a a really good treasure hunt. I never knew what I'd find, but I did know I'd find a lot.
That day, one of the treasures was The House with a Clock in Its Walls. I remember reading the tagline on the cover: "The thing was ticking away, marking off the minutes until doomsday". And the cover itself! It was probably the scariest cover out of any book I'd ever read up until then.
Even now, so many years later, I can remember being deep into the book, barely breathing, as I read about Lewis, who'd been orphaned and had come to live with his eccentric Uncle Jonathan in Uncle Jonathan's big old mansion, with its secret passages and all those rooms. I can remember the shivers of delight when I discovered that Uncle Jonathan was a wizard, as was Mrs. Zimmermann, his neighbor and best friend.
I loved the zany whackiness of Uncle Jonathan and Mrs. Zimmermann, the way they sniped at each other good-naturedly, the way they both cared about Lewis. I loved Lewis, too – on the plump side, shy, eager to fit in – and his new best friend, Rose Rita, who was spunky and brave and maybe a little too headstrong sometimes.
And then there was Isaac Izzard, the dark warlock who had owned the house before Uncle Jonathan had bought it. Old Izzard made such a very creepy, scary bad guy. I can remember reading this book and being scared to go down our dark hallway to go to the bathroom. It was a fun, scared feeling, though – not the stuff of nightmares, just enough to make you feel deliciously frightened.
The House with a Clock in Its Walls was also my first introduction to the illustrations of Edward Gorey. There are delightful pieces by Gorey throughout the book, and Gorey's style is a perfect match to the tone of the story.
I read and reread The House with a Clock in Its Walls so many times after that first read. And being a true reader even then, I sought out as many of John Bellairs' books as I could find. Lewis and the gang appeared in some of them, others were populated by different sets of characters. I eventually read them all, and I loved them all.
But out of all of Bellairs' tales, The House with a Clock in Its Walls will always hold a special place in my heart. I reread it earlier this year, after a long hiatus away from it, and sadly (but inevitably), the scare/suspense factor wasn't there any more. I still loved the characters and the relationships, though, and the wave of wonderful memories that accompanied my re-read more than made up for the loss of the scariness.
Woooooo! That is a spooky cover!  Thank you, Belle, for your contribution!  Come back next Saturday for another edition of The First Book to Terrify MeI