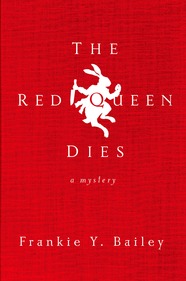 Hardcover: 304 pages
Publisher: Minotaur Books (September 10, 2013)
ISBN-10: 0312641753
Source: Publisher
The year is 2019.  Police detective Hannah McCabe is charged with investigating the deaths of two women, both killed when the drug phenol was  injected into their hearts.  When a third victim is found, a Broadway actress Vivian Jessup, all stakes are raised. Is a serial killer loose on the streets of Albany?  McCabe must find a connection between the three victims before the killer strikes again. Adding to stress is a reporter, Clarence Redfield, who always seems to have information he shouldn't. Redfield, dead set on defaming the police investigating these crimes, printing information about  McCabe's past and an incident that left her brother  paralyzed.
The first in a new trilogy, The Red Queen Dies creates a unique futuristic world in which many things have changed, yet many remain the same.  A drug, "Lullaby,"  created to help soldiers forget the pain and memories of war and "heal" post-traumatic stress disorder runs rampant on the streets. Global warming is still in full force and government over-spending continues.  Cell phones have been replaced with devices called ORBs, highly advanced versions of modern smartphones.
I appreciated the ties to lesser known details about Alice and Wonderland and The Wizard of Oz that wound their way into the investigation. Police procedural are pretty common, but adding these elements, and the futuristic setting, make this one stand out.
Another feature of this book I appreciated is the main character, Hannah McCabe. Because of a traumatizing experience in her childhood, McCabe is a secretive, self-protecting young woman. Instead of allowing this experience to be her downfall, she uses it in her role as police officer. She's determined, compassionate, and dead set on justice. I am thrilled that strong, female protagonists in crime fiction is on the up-rise.
Being that this is the first in a trilogy, there is a lot of information that is revealed but not expanded upon.  While many other reviewers complained about this, I think this is a common trait in the first book of a series. So much information has to presented in that first book in order for it to be picked up in subsequent volumes.  The tidbits of information Bailey gives her readers has me clamoring for more!
Bottom line: if you are looking for an intense police procedural with a unique spin, this is the one for you! I am highly anticipating the next book in this trilogy! Highly recommended!