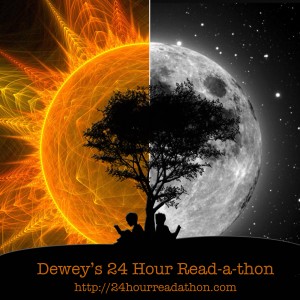 Today I'm participating in Dewey's 24-Hour Read-a-thon!  So to not inundate my followers with numerous update posts, I will instead, as with past read-a-thons, utilize Tumblr to update you all on my progress.  I will post each of these updates below! So, while the look of this post may not drastically change, know that there is some serious reading going on

Here's my proposed reading stack. No, I'm not going to read all of these books (I wish) but I hope to at least read 5-6 to keep up with my average.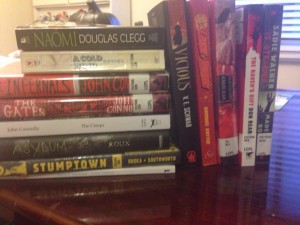 Good luck to all who are participating! Check back every few hours or so for updates (click on the links below) or follow my progress on Twitter (@jennbookshelves).
Read-a-thon Kick-off!
Update #1: 2 Hours In
Update #2: 4.5 Hours In
Update #3: 6 Hours In
Update #4: 7 Hours In
Update #5: 10 Hours In
Update #6: 12 Hours In
Update # 7: 14 Hours In
Update # 8: Finish LIne