Tomorrow, Dewey's 24-Hour read-a-thon officially kicks off! This is my favorite of the two read-a-thons; there's something about the cool fall weather and the idea of curling up under a nice, warm, blanket that appeals to me!
When I heard my in-laws were coming in town, I knew I still had to figure out a way to participate in the read-a-thon. So, while most participants will be starting tomorrow morning, I'm starting today.  I'll still be participating in bits and pieces tomorrow, but I want to dedicate uninterrupted time to my reading.  Then, after my in-laws depart on Sunday morning, I'll pick back up again. Still getting in that full 24-hours, but covering multiple days with breaks in between!
Here's my book line-up. I always concentrate on horror/thriller for this read-a-thon. The timing is just perfect! Also, I don't plan on reading all of these titles; I simply like to have options.
First, the print books: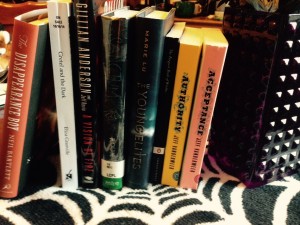 The ebooks:
Parasite by Mira Grant
Fingersmith by Sarah Waters
Dead of Night by Jonathan Maberry
Fall of Night by Jonathan Maberry
Locked in by Jon Scalzi
Plus: Dozens of comics/graphic novels!
Library Titles (I'll be picking these up as soon as the library opens!):
The House of Small Shadows by Adam Nevil
This Is How it Ends by Jen Nadol
Since  I'm not participating in the read-a-thon in the traditional sense, I might just do daily updates until Sunday when I'll go back to updating after each book read. I'll post the updates on Tumblr, then link them below!
Update #1 (Sunday 10/19 5:00 PM)
Update 2: 10/19 7:30 PM