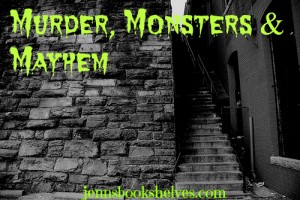 It's here, it's here! The day we've all been waiting for (ok, maybe it's just me!) Cooler weather is upon us, leaves changing color before falling to the ground. With fall comes the perfect opportunity to curl up with your favorite spooky read, be it paranormal, horror, suspense or thriller. And so, it is time to kick off my favorite event of the year, Murder, Monsters & Mayhem (affectionately called Mx3).
This month, you will see regular postings of various types, including reviews of some of my older favorite horror and thriller titles as well as some newer ones. I'm excited to kick off with a new special Mx3 series in which individuals will write about the first book that terrified them. I'm not surprised that Stephen King's name pops up quite a few times!
Giveaways! I'm overwhelmed with giveaways this year! I've created a special Mx3 prize page which will contain dozens of books available for giveaway. All you have to do to enter is comment on a post or link up your thriller/horror/Halloween-esque post to the special link-up page!
So sit back, relax, and enjoy all the spooktacular fun!