This week, the JCrew has been on a mini-vacation of sorts. We're holed up in a quaint little cabin in the mountains of Southwest Virginia, just a few miles from the WV border.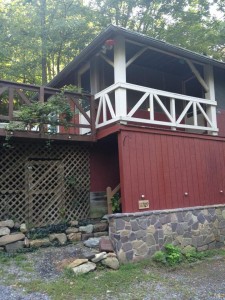 We figured this trip would be a great way to spend the final days of summer before the boys start school again on Tuesday.
Our cabin is literally in the middle of nowhere. We have to drive down the mountain on a one-lane road to get to the main road, then another 15-20 minutes before you hit a decent sized town (Harrisonburg, home of James Madison University).  We leave the cabin to go on short hikes and to go fishing, but as a whole, we haven't had THAT much interaction with others.
Anyway. I decided that I would spend this little getaway to do  a reread of Atwood's Oryx and Crake and Year of the Flood. I accomplished half of that goal. I did finish my reread of Oryx and Crake, but then I had to stop. Why? The setting that surrounded me, the desolate, quiet wilderness, caused me to have such a strong reaction to this novel. Those who have read this novel understand how starkness and darkness contained within.  The entire planet is decimated by a virus that we, humans, create.  On purpose. Intentionally. So, here I am in the middle of nowhere, and frankly, it really made me ponder the world created by Atwood in this phenomenal novel.
That's not to say I didn't enjoy this novel. I really did. But would my experience and reaction be different had I read it in the comfort of home, just minutes away from the chaos that is a part of living in the DC metro area?
The more I thought about it, the more I realized just how important our setting, the venue in which we read a novel, can affect our feelings and reading experience.  While I know without a doubt I would have enjoyed this novel no matter where I would have read it, would the pure loss and devastation I experienced in reading it be as intense?
Tell me I'm not crazy. Tell me you, too, have had an experience in which the setting in which you read a book influenced your overall reading experience?