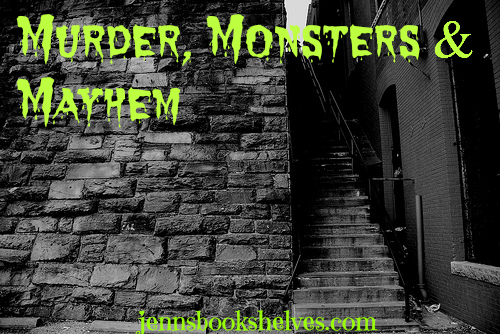 In the event you've been living under a rock, you may not have heard about my planning for my big feature of the year,  the fourth-annual Monsters, Murders, Mayhem (which I fondly refer to as Mx3)!  It's a month long celebration of horror and thriller books that takes place in October. Think Frightful Friday, but on a much bigger scale!
You may say "Jenn, it's only August!" Why yes, that is true. However, Mx3 takes a considerable amount of planning to pull off!  Starting in June, I began selecting and books I'd like to feature in the hopes I will have everything finalized by the end of September.
The response to Mx3 has been wonderful!  I've already been contacted by several publishers interested in hosting giveaways and by bloggers interested in participating.  This is where you come in!  I'm soliciting guest posts from readers, authors, bloggers, etc on the following topic: What was the first book that terrified you!?  If you are interested in participating, please fill out this form.
Publishers and/or authors! There are still opportunities for you to participate! If you have a title you would like to submit for review consideration or would like to participate by sponsoring a giveaway email me at jennsbookshelfATgmailDOTcom.
Note: Please see my review policy for more information about what books I will/will not review as part of this feature.
Stay tuned for more information in the coming months!! Let the countdown begin!