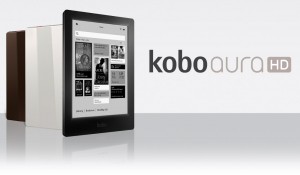 When I was contacted by Kobo to review their newest eReader, the Aura HD, I gladly accepted the offer. While I am not presently looking for an eReader for myself, several close friends and acquaintances are on the search for a basic eReader and, in order to keep up-to-date on current eReader trends, I saw this as a great opportunity to fulfill both needs.
First, for the basics (taken from Kobo's web site):
Size: 175.7 x 128.3 x 11.7 mm (6.91 x 5.05 x 0.46 in)
Weight: 240 g (8.4658 oz)
Processor: 1 GHz; 20% faster processor than other leading eReaders.
Display: 6.8″ WXGA+ Pearl E Ink Screen
ClarityScreen+: 265 dpi, 1440 x 1080 resolution
Light: Built-in ComfortLight technology with micro-thin coating for durability and even light distribution
Connectivity: Wi Fi 802.11 b/g/n and Micro USB
Storage: 4 GB, option to expand up to 32 GB with a Micro SD card
Battery: Up to 2 months*
Now for the features I particularly enjoyed:
I was impressed with the Aura HD as soon as I took it out of the box. It as a sleek, ergonomic feel to it. It fits perfectly in the palm of your hand, great for comfort while reading.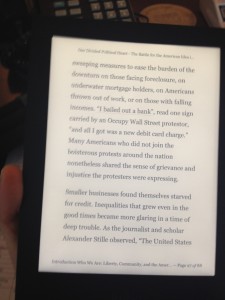 Additionally, the set up was incredibly easy. You have two options for set-up: via a computer or wirelessly. I opted for wireless. Once an update was installed, I was able to log in to my Kobo account in seconds. There are also options to create a new Kobo account or to sign in using your Facebook account.  From start to finish, set-up took less than 10 minutes.
The Reading Experience
It is obvious that this eReader was created, and geared toward, passionate readers. Following are some of the features I think readers will find valuable as related to the reading experience:
All of your books are accessible from anywhere, via the Kobo cloud. Additionally you can purchase books based on recommendations from Kobo (your feedback to these recommendations will further tailor these recommendations.
10 font styles and 24 font styles allow you to customize the overall look of the text as you are reading.
A dictionary is installed and by clicking on a word, the definition(s) appear within seconds.
By highlighting the text, you can either take notes and/or share that text to Facebook
This reader is compatible with ePub and Adobe ebooks, so you can easily download books for free from your local library.
For those who review egalleys, you can add these titles to the Kobo Aura HD easily using Adobe Digital Editions
You can easily buy ebooks from your local independent bookstore by either adding you existing Kobo account linked to that bookstore or by going on the store's web site to create a new one.
Kobo Reading Life tracks your reading habits. Find out your reading speed and page turn rate and earn rewards for reading.
By far one of my favorite features is the backlight. By pushing a button, the screen illuminates, the strength of the light adjustable. The screen is also glare-free so you can read in comfort in any lighting situation. The light actually illuminates the screen beautifully and I was able to read easily in the pitch dark without disturbing my husband next to me.
Are you one of those "social readers" who checks to see what others are reading while in public? Well, Kobo's Aura HD allows you to show off what you are reading, even when the device is powered off. The "screen saver" is the cover of the book you were last reading: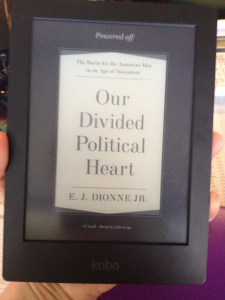 Price:
At $169, the Aura HD is a bit more expensive than the comparable Barnes & Noble and Amazon products.  That said, the Reading Life feature as well as the fact that it is not "tied" to a store makes the price well worth it for me.
All in all, I think this is a perfect eReader for a passionate reader. You won't find any features to distract you from reading. A truly rewarding experience overall.