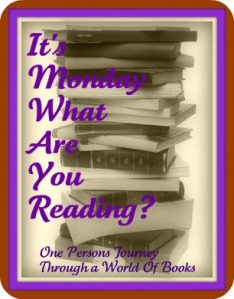 It's Monday! What Are You Reading This Week? This is a weekly event to list the books completed last week, the books currently being read, and the books to be finish this week. It is hosted by Sheila from One Person's Journey Through a World of  Books so stop by and join in!
Books Completed Last Week
The Girls' Ghost Hunting Guide by Stacey Graham (review)
The Watcher by Charles Maclean
The Midwife of Hope River: A Novel of an American Midwife by Patricia Harman
Currently Reading
Flight Behavior by Barbara Kingsolver
Man in the Blue Moon by Michael Morris
V Wars: A Chronicle of Vampire Wars (audio)

Books to Complete This Week


Sweet Tooth by Ian McEwan
The Trial of Fallen Angels by James Kimmel, Jr.
Brain on Fire: My Month of Madness by Susannah Cahalan

What are you reading this week?