Rather than writing the standard BEA wrap-up post where I try (and fail!) to recall what I did each day, I've decided to focus on sessions/events in which I found a great deal of value.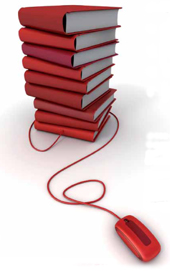 Last week while I was in NY for Book Expo America, I joined several other bloggers on a trip to Harper Collins for an exclusive look at ebooks, including how they are made, how they are promoted, etc. This event was led by the following people from Harper Collins:
Ana Maria Allessi – VP/Publisher HarperMedia
Lucia Macro – VP/Executive Editor, Avon, Avon Impulse, William Morrow
Erica Barmash – Senior Marketing Manager, Harper Perennial and Harper paperbacks
Also contributing to the presentation were Pam Spengler-Jaffee, Senior Director of Publicity for Avon, William Morrow, and Harper Voyager, and Jennifer Hart, Senior VP/Associate Publisher, William Morrow Paperbacks.  Needless to say, a huge wealth of knowledge, all in one room!
As an avid ebook fan myself, I found this event to be quite valuable. Since the advent of ebooks, a whole host of debates have popped up about ebooks vs. print, the cost of ebooks, etc. This session, in my opinion, answered a lot of questions that pop up in these discussions. This post is my attempt to provide a bit of inside into this process. In order to keep this post under control, I will focus on the two debates I see popping up most often.
Cost of ebooks: Shouldn't ebooks be cheaper since they cost less money and are easier to produce?
Not the case. Many more steps go into the production of an ebook, including several steps and levels of proofing/editing to ensure that when books are converted to epub (the "standard" formatting for ebooks presently) that nothing is altered in the conversion. Additionally, prior to epub, publishers had to convert the book to several different formats, each time proofing the converted book to make sure it wasn't altered unknowingly in the conversion.
In the cases of those books that were originally published and print and are now being published as ebook, the task can be challenging as well. In many cases, the print file can be located and used to create the ebook. However, if the book is older and/or if the print file cannot be located,  the print copy of the book must be obtained and quite literally scanned into an electronic file that can be converted to epub, the "standard" format for ebooks currently.
If a ebook isn't available on one retailer's site but it is available on others, it is the publisher's fault.
No. Now, I'm speaking about Harper Collins specifically, but generally when a publisher pushes out an ebook, it is sent all ebook retailers simultaneously. It is then up to Amazon, B&N, Google, etc. to post that book in their inventory, reformatting the ebook, if necessary, to fit their formatting. Therefore, if you see a book on B&N & it's not available on Amazon yet, don't blame the publisher, blame the retailer.
Ebook Marketing
Now, moving on to the marketing side of ebooks.  A question was raised at this session about whether or not ebooks are marketed differently than print. The following portion of this post was provided to me by the great Erica Barmash – Senior Marketing Manager, Harper Perennial and Harper paperbacks! Special thanks to her for sharing her wealth of knowledge!
How We Market E-books
When a frontlist book that is available in both print and electronic formats comes out, most of our marketing, advertising, and publicity is format-agnostic. Any ads we do that point to retailers will point to online retailers as well, and the vast majority of our outreach focuses on the book itself—the read, the praise, the author—rather than a specific format.
One exception to that is e-book sales. Often, before a new book comes out, we will lower the price of the author's previous book. Our regular prices range from 9.99 to 12.99, though most are 9.99, and so we will lower to anywhere from 99 cents to 4.99. We make sure to put either an ad or an excerpt for the new book into this file before it goes on sale. This is something we do very often.
Another thing we will do is release a free excerpt e-book from the new book before it goes on sale, or a free or low-priced novella or unreleased material. William Morrow has done this with some of their big authors, like James Rollins, and HarperTeen did it with the Hana e-book before Pandemonium came out.
On the Perennial side, we did it for a few of our books recently, with free excerpts from our book The Moment and This Will Make You Smarter. Both of those were compilations, so we selected pieces from some of the bigger names in there, like Jennifer Egan, and played those up in both the title and the description that we fed out to online retailer sites. The idea behind these is that we will entice new readers with the lower price and that they will then like what they read so much that they'll order or pre-order the new book. In the case of someone like Lauren Oliver, it can also remind fans of a first book that a new one is coming out and get them excited about it.
We've seen varying levels of success with these. We promote these sales and free ebooks everywhere we can in terms of social media, but there are two factors that strongly influence sales: the author and the retailer. If any author has a huge following online that they can promote to, that always makes a difference. And featured placement at either the kindle, nook, or ibookstore usually has a huge impact.
There are a limited number of slots for promotion, and we're competing with all the other low-price e-books out there. Our e-book sales reps have a set program that they present to retailers every month with featured books, but they are also always trying to get our larger e-book campaigns promoted, which brings me to the other thing we do in terms of marketing e-books.
The other main thing the marketing teams do in terms of e-books is larger, themed e-book sales. We did the Harper Perennial 20 for 20 originals promo, where we picked 20 books to sell for 99 cents each for a month. There have also been the Book Club Girl e-book bonanzas, where Jen highlighted reading group titles across all imprints, and there are also always themed promotions going on from Avon Romance.
These have been really successful for us. I think it helps a lot when there's a similar group of titles on sale, because people know that if they're interested in one, they're likely to be interested in another. There's also the cumulative effect of having 10-20 authors all promoting a sale at the same time, and we've had great success getting these promotions highlighted by the online retailers, and especially indie bookstores that sell e-books. A lot of them have included books that sold well at indies, and we always provide them with tile ads and other ways they can promote.
The e-book world, and the publishing world as a whole, is constantly changing. When I started my job in fall 2009, e-books were barely a blip on my radar, especially for a lot of the Harper Perennial titles, and now promoting e-books is a HUGE part of my job, especially since it's often a day-to-day, extremely active thing. If we want to change the price of a print book, we have to wait until we're almost out of stock, then print new books, then wait for them to be ordered and hit stores. Now, there are times when we decide to change a price on a Friday and it's done on Monday. It can be really stressful, but it's also really exciting.
This wraps up this post for now; I may do future posts on this and similar subjects based on interest. Special thanks again to Erica Barmash and Harper Collins for arranging this event!
Tags:
book marketing
,
Bookish Chatter
,
ebooks