Yesterday, I reviewed Roberta Rich's The Midwife of Venice, a truly suspenseful piece of historical fiction. Today, I'm pleased to present a guest post with Roberta on how she came up with the topic for her book.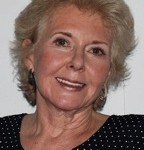 Venice is a jewel box of magnificent buildings, exquisite squares, and beautiful paintings. Or so I thought. Then my husband and I took a walking tour of the Venice which ended in the Jewish ghetto, founded in 1516 on one of the few islands in Venice that does not have a church.
The square of the Ghetto Nuevo is as large and as plain as a pizza without sauce. It is hemmed in by ancient tenements which struggle to reach the sky like light starved plants. Standing there, gazing around, I tried to imagine how women might have lived in those days 500 years ago¾how they fed and clothed their families in these crowded, badly constructed, unsanitary dwellings.
As I wondered how they would have given birth, the idea for The Midwife of Venice was born. My heroine would of course have to be the best midwife in all of Venice. And what I mused, would give her an advantage over all the other midwives? In the ghetto museum was a display of silver spoons. One pair was positioned in the showcase in a way that gave me an idea.
Suppose, I daydreamed, my heroine, let's call her Hannah, was ladling out beet soup one Shabbat, soup so hot and steaming it made her hair spring into tiny curls. She plunged the silver soup ladle deep into the tureen but she dropped the handle when it grew too hot and it slid into the bowl, coming to rest against the curve of the bottom.
She took an identical spoon down from the cupboard. With her hands still stained red from the beets, she crossed one spoon over the other to form the letter X.  An idea took shape in her mind of an instrument that could bring a child's head farther down the birth passage and hasten deliveries.
She made a rough sketch and took it to the silversmith, directing him to fashion a device, sculpting the bowl of the 'birthing spoons' more deeply than an ordinary spoon, and making the handles longer. A hinge held the two spoons together in the middle, so that they could be opened and closed like a pair of scissors.
At first, Hannah practiced in private by extracting onions from the cavities of raw chickens. When her dexterity improved, she used them at confinements, draping a bed sheet over the mother's bent knees so she could not see and shooing all of the other women from the room. Midwives were burned as witches for less cause than this, so Hannah knew she must be circumspect.
And so from this seed of an idea―a pair of silver spoons in the ghetto museum ―my story grew into a novel about a conservative, sheltered woman who chooses to defy the law to deliver a Christian baby so that she may rescue her beloved husband who is a slave on the island of Malta.
……………………………………………………………………………..
Thank you, Roberta! Thanks to the publisher, I have one copy of The Midwife of Venice  to give away. To enter, please fill out the form below. The winner will be contacted via email on Friday, February 24. Due to publisher restrictions, this giveaway is open to US citizens only.