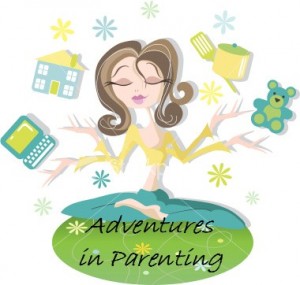 Why yes, it's been an unreal amount of time since the last time I posted an "Adventures in Parenting" post.  Let's just say that my parenting life has had so many adventures since the last post, I don't even know where to start!
Those that know me, be it on Twitter, Facebook, or here on the blog, know how important sharing the love of reading with my children is to me. I've talked endlessly about how John, my eleven year old, transformed from a reluctant reading into an avid reader.  I haven't talked much about my five-year-old, Justin, because he's ALWAYS had a love of reading. 
For this edition of Adventures in Parenting I'd like to show a video taken of Justin by Erica Perl, author of CHICKEN BUTT and CHICKEN BUTT'S BACK (among many others). Those who follow me on Twitter, Facebook, or Tumblr may have already seen this, so I apologize in advance (not really, I'm darned proud of him!)  This video was taken in April when Erica paid a visit to One More Page Books. Justin discusses his love of these picture books!
My future bookseller in the making 🙂 Looks like all my hard work has paid off!