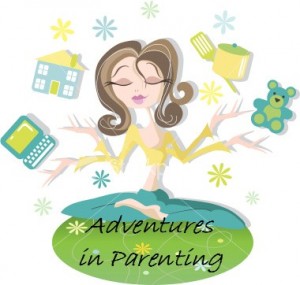 Adventures in Parenting will be a new weekly feature here at Jenn's Bookshelves.  The idea was formulated on Twitter (of course!) by Rebecca from The Book Lady's Blog after she read my tweets about yet another fiasco one of my boys had gotten themselves involved in.  Thus, a new feature was born!
The focus of this week's feature: Vapor Rub!
One night last week (which just happens to be the night before my in-laws were scheduled to arrive!) I was putting my boys to bed.  I went downstairs to put on a new load of laundry.  I was downstairs less than five minues when a minty-fresh odor came wafting down through the air vent.  This air vent leads right into the bedroom of my youngest son, Justin.  Justin is quite the character, always keeps us on our toes.  
After smelling this minty-fresh scent I pondered for a moment.  What on earth could that smell be?  It definitely wasn't toothpaste.  Then it hit me: VAPOR RUB!!
I ran up the stairs and discovered Justin sitting on his bedroom floor with an empty jar of Vicks Vapor Rub next to him.  He had a mischevious smile on his face.  His hair glistened in the lamplight.  I new instantly what he'd done. 
I took him into the bathroom, undressed him, and stood him in the shower.  I scrubbed and scrubbed his head but the greasy goo just wouldn't come out. By this time,  Justin was pretty stressed out so I sent him to his bed and logged on to Twitter to find an answer.  I asked my tweople if they new how to remove Vapor Rub from hair.  It's water-soluable so just rinsing with water wouldn't work.  At the same time, I googled my question.
I was able to find the remedy at eHow.com: dish soap!  The ingredients in dish soap that remove food & grease from dishes will also remove Vapor Rub from hair!
Justin and I went back into the bathroom and did another thorough cleansing of his hair using some lovely apple-scented dishsoap.  Within minutes, his hair returned to it's normal state.  Justin continued to smell like an apple-mint combination for the next day or so, but my only other option was to cut all his hair off!
Following are pictures from that night.  While you really can't see the Vapor Rub in his hair, his face tells it all!
Check back next week for the next episode of Adventures in Parenting which will feature: Elementary School Crushes!