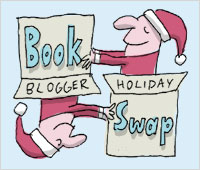 Have I mentioned how much I LOVE LOVE LOVE this time of year!? Today I came home to find a shoebox sitting on my porch. Realizing I would have never purchased a size 7 boot for myself, I realized it MUST be my Secret Santa Gift! I ripped it open (I'm so impatient when it comes to opening gifts!) and below is what I found.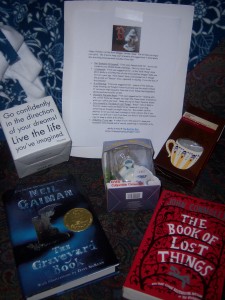 Inside was a note from my Secret Santa, Molly & Andy from The Bumbles Blog:
Happy Holidays via the Book Blogger Holiday Swap!  We do hope you enjoy your gifts.  We tried to keep your interests and suggestions in mind while also providing some personal touches of our own:
Neil Gaiman's "Graveyard": From your Amazon wish list-so you can complete your Middle Grade Challenge–this is a clever book!
A bookmark: From your suggestion list-in the "book thong" style which Molly is a faithful fan of ever since another blogger made one for her a year ago.  Hers doesn't have a cool pendant on it though.  She picked out "Beauty" since, especially in reading, it is in the eye of the beholder.

A Coffee mug: From your suggestion list–unsure of what kind you enjoy brewing, we thought it best to provide you with the vessel instead. It carries an inspiring quite from one of our fellow New Englanders whose pond we recently visited.

Chocolate expresso beans: From your suggestion list-keeping with the coffee theme we thought you might like these treats to munch on with your coffee and book.  These are oe of Andy's favorite treats.

John Connolly's "The Book of Lost Things": Bonus!  One of Molly's favorite recent reads and based on our research of your blog, something we thought you might enjoy too.  We couldn't confirm whether or not you had read it already so took a chance that if you haven't, you will love it and if you have, you loved it and wouldn't mind a copy to keep or share with others.

A Bumble of your own: A token of our little mascot to keep your handsome sons amused and of course, something to remember us by.
So thoughtful!  So thank you SO MUCH Molly & Andy!