I received this book for free from in exchange for an honest review. This does not affect my opinion of the book or the content of my review.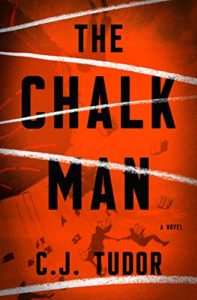 The Chalk Man by C. J. Tudor
Published by Crown/Archetype on January 9, 2018
Genres: Crime, Fiction, Psychological, Suspense, Thrillers
Pages: 288
Format: Hardcover

Eddie and his friends were just barely teens in 1986.  They spent their summer biking around their quiet town, desperate for excitement.  To prevent bullies from knowing of their plans, they would use chalk drawings to communicate with one another. When one chalk drawing leads them to a dead body, their adolescent innocence is forever shattered.

Now, thirty years later, Eddie has attempted to put this all behind him.  He believed himself to be successful, until he receives a letter in the mail, a letter including the drawing of a lone chalk man. They thought the chalk man was dead, but the existence of the letter proves this not to be the case.  When his friends, too, receive the letter, Eddie realizes that one can never run from the past, and only in confronting it can he find the answers.
I wanted to adore this book.  It's being recommended for fans of Stephen King, Stranger Things and more.  I think this recommendation, or that it's an unsuccessful attempt to resemble the horror greats, is what changes my outlook on this debut novel.
In my humble opinion, if you are going to write a novel similar to IT or Stand by Me, your bar is set very high. Unfortunately, I don't believe Tudor met these standards.  This could have been a perfectly good novel had it been more unique, for when you compare something to a novel so timeless, so classic, that in not meeting those goals makes it suffer significantly.
That said, if you remove the "similarities" in the first portion of the book and instead focus on what makes this a unique read, I believe you will find yourself getting a far better experience out of this book.  The conflict, and the ultimate resolution, was completely engaging and absolutely thrilling.
Thank you to TLC Book Tours for providing me the opportunity to take part in this tour.  Please be sure to check out the other stops in the tour!