I received this book for free from the publisher in exchange for an honest review. This does not affect my opinion of the book or the content of my review.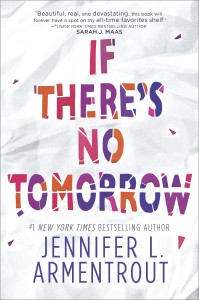 If There's No Tomorrow by Jennifer L. Armentrout
Published by Harlequin Enterprises, Limited on September 5, 2017
Genres: Social Themes, Young Adult Fiction
Pages: 384
Format: Hardcover
Source: the publisher

Lena Wise is starting her senior year of high school.  Her future is bright and hopeful, she's looking forward to attending college (hopefully aided with a volleyball scholarship).  This is the year of new experiences and opportunities.  And maybe, just maybe, Lena will be able to tell her childhood friend, Sebastian, how she really feels about him.  Her opportunities, and her tomorrows, are limitless.

Then one moment, one instant, takes all that hope away.
Why yes, that summary was completely and totally vague.  I did it intentionally, for it is truly part of the experience of reading this book that the reader uncover that bit thing, that one moment, that changes Lena's life forever.
What I can say that this is a truly heartfelt, and memorable read.  What Lena endures, the full range of emotions, is genuine; it is what any other seventeen-year-old girl would experience in the situation.  It doesn't read as an adult writing the feelings of a teenager; Armentrout "got" the essence of teen necessary for such an emotional read.
I adored Lena and Sebastian's relationship.  Sure, at first I rolled my eyes at "girl has crush on childhood friend," but I quickly got over it.  Their friendship, their relationship, was real.  Additionally, I really appreciated they didn't dive head-first into a steamy sex-filled relationship, but one that truly centered on one another's love and respect for one another.   That may sound Puritan, but it's an aspect of YA fiction that I often find lacking.  This relationship was just perfect.  Extra kudos for Lena for being a book nerd, too

I devoured this book in just a few sittings, I quickly became invested in Lena's story and uncovering what transpired that night.  The pacing of the reveal was slow but meaningful, certainly fell into pace with Lena's own recovery and understanding of what transpired.
All in all, this is truly a remarkable read, one that readers both teen and adult should experience.  Highly recommended.
Thank you to TLC Book Tours for providing me the opportunity to take part in this tour!