I received this book for free from the publisher in exchange for an honest review. This does not affect my opinion of the book or the content of my review.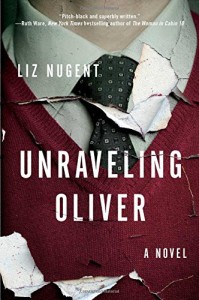 Unraveling Oliver by Liz Nugent
Published by Penguin Books, Limited on August 22, 2017
Genres: Suspense, Thriller
Pages: 272
Format: eARC
Source: the publisher

Oliver Ryan is a successful children's book author; his wife Alice brings the words to life with her illustrations.  They live a life of privilege and ease.  Until one evening, Oliver attacks Alice, leaving her in a coma.

Following the attack, the couple's friends, family, neighbors and acquaintances try to piece together the events that lead up to the attack.  His story unfolds, through his voice and those around him, revealing a man full of deceit, manipulation and destruction.  Piece by piece, the real Oliver is re-assembled,  revealing a man with a history of horrific acts.
This title has received quite a bit of praise and acclaim leading up to its publication.  Typically, this lends me to putting it on the back burner until the attention dies down, yet the source of the acclaim made me actually rush to read this one.
What a remarkable format.  From the first line "I expected more of a reaction the first time I hit her, "  I knew I was in for a thrill-ride of a read.   Though we don't know much about the attack from the beginning (the full-version isn't actually revealed until near the end of the book), we are aware something pretty substantial happened.  And, rather than learning the backstory or history from Oliver or some omniscient voice,  we get it directly from those around him.  Never was I concerned about the validity of the accounts, for the opinions of Oliver varied dramatically.  Add them all up together and you get a pretty honest portrayal of his character.
Though, what makes this stand out the most is that it's really multiple thrillers in one.  First, we eventually learn the cause and what led up to the attack on Alice, but also a history of incidents Oliver was involved in that were deadly, or attributed to one's death.  This is an incredibly well-plotted read, for everything was so expertly planned out, revealed only when the timing was perfect.
I hate to compare this to previous books with incredibly twisty plots, for it most certainly stands out on its own.  Truly remarkable, this title left my heart-pounding for days after I turned that last page.  Highly recommended!