I received this book for free from personal copy in exchange for an honest review. This does not affect my opinion of the book or the content of my review.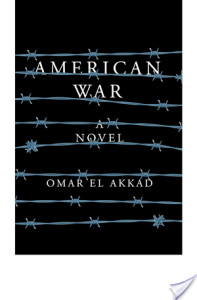 American War by Omar El Akkad
Published by Knopf Doubleday Publishing Group on April 4, 2017
Genres: Dystopian, Fiction, Literary, War & Military
Pages: 352
Format: Hardcover
Source: personal copy

When the Second American Civil War breaks out in 2074, Sarat Chestnut is just six years old. This war, however, it isn't over race, but fossil fuels.  The country is a shell of what it used to be: Mississippi, Alabama, and Georgia have seceded, forcing their citizens to form refugee camps. The entire state of South Carolina is walled off, whatever remaining citizens are victims of a weaponized virus. Her parents are desperate to flee Louisiana, now largely under water, by obtaining visas to work in the North.

Sarat's world is further upended when her father is killed.  They leave what semblance of home they've retained and head to Camp Patience, a camp for displaced persons. There, in the years that follow, Sarat is introduced to a faction that ultimately molds and transforms her into a deadly killing machine, a shadow of the vibrant young girl she used to be.

The acts she participates in not only challenges and influences her future, but that of her family and future generations to come.
Though likened by other reviews to The Road by Cormac McCarthy, I'd like to dispel that link.  The only similarities lie in a journey embarked upon an attack or epic devastation.  That's it.
In this novel, we follow Sarat's path from a young six year old to a war-hardened young woman, essentially a terrorist in the making.  She joins the resistance in a battle against the Northern military. As we witness her evolution (or, as some referred, her devolution) into this vessel of war,  we also follow the goings on of the country through news reports, speeches, and excerpts from textbooks. This grants the reader a fully formed and incredibly detailed reading experience.  Thought it may seem that, in a large part, this is dark and harrowing read.  While it is, a sense of hope and recovery are also felt, albeit not nearly as quickly as we would like.
Sarat's path/journey is wholly transformative; her future is molded by the experiences she endures, from the death of her father to the attack of the very place she holds dear.  She becomes vengeful; desperate to end the lives of those playing puppeteer in her life, controlling her every move.  The end result of her transformation is certainly not surprising, given the life she was forced to endure.
There are many that didn't enjoy this book because it seemed implausible.  To see that this premise is, in fact, completely plausible only requires you to watch the news; the political climate of our nation, and the world, is highly caustic.  This novel doesn't serve as another means of bringing us down in a society riddled by war, but instead as a warning of what is to come.
Wholly moving, incredibly well-written, this is a book that can't be ignored. Highly, highly recommended.