I received this book for free from the publisher in exchange for an honest review. This does not affect my opinion of the book or the content of my review.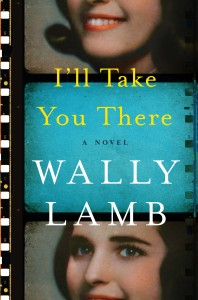 I'll Take You There by Wally Lamb
Published by HarperCollins on November 22nd 2016
Genres: Contemporary Women, Family Life, Fiction, Literary
Pages: 272
Format: ARC
Source: the publisher

Felix, a film scholar, runs a movie club in a former vaudeville theater. As he's setting up, he's visited by the ghost from Hollywood's past: Lois Weber, a director from Hollywood's silent film era.   Lois grants Felix a unique opportunity: to relive memories from his childhood, projected like film onto the theater's movie screen.

Felix is granted the opportunity to revisit the women who are most important in his life, those who have influenced his life the most.  From his sister, Frances, and their unique relationship built on a mix of cruelty and compassion, to his daughter, Aliza and her war between her feminist beliefs and lofty career ambitions, Frances gains a new understanding and appreciation for those women he holds close and dear, and the struggles that have faced throughout all eras.
Wow. What an experience.  What makes this even so exhilarating is how my experience and considerations for this book transformed as I read it.
I'm no fan of film history. I get that there are a great number of people who are, so when the author delved into that word of Hollywood magic I went along for the ride.  True, I found myself skimming through bits and pieces until "POW, " the introduction of the ghosts of Hollywood's past paid a visit.  That journey they presented Felix with not only affected is outlook, but my own as well.
Through Felix's journeys through his past, we are introduced to a host of women fighting a battle we've been fighting all of our lives: for appreciation, understanding, respect, equal treatment, and much, much more. Lamb touches on a wealth of difficult issues, from eating disorders and abortion, to infidelity and the right to love whomever we want, no matter the gender. What makes this all so tremendous is that it isn't a sudden release of all these weighty issues, but a slow and sudden stream of realization and understanding.  Upon assembling them all together and reviewing the full scope of the novel (especially the second to the last chapter), we then realize the true impact and resolve of these women in his life.  They were all trailblazers, fighting and desperate to rise above the restrictions society has placed upon them in an effort to attain the life and status they deserve.
This is the book to read now of all times, when once again we face a social climate in which our rights, our bodies, our lives are put into question.  It reminds us that we women have been facing this battle for years.  Feminism has changed over the decades.  It's moved from burning bras to social media and hashtags declaring our voices. Yet, despite these differing methods of action, our message is still the same. We are all fighting this continuous battle…and we must come together to fight it as one.
Highly, highly, highly recommended.