I received this book for free from in exchange for an honest review. This does not affect my opinion of the book or the content of my review.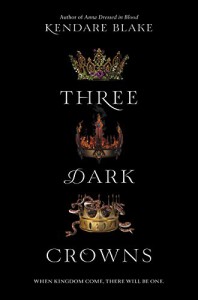 Three Dark Crowns by Kendare Blake
Published by Harper Teen on September 201, 2016
Genres: Fantasy, YA
Pages: 416
Format: eARC

Each generation, a set of triplets is born. Each one has equal rights to the thrown, each holding a coveted form of magic.  The path to the throne isn't guaranteed. They each must fight for it, a battle to the death, to reach the position of queen.

This generation of triplets is a force to be reckoned with.  Mirabella has the power of the elements, able to generate horrific storms with the slight motion of her hands. Katharine is a poisoner, able to ingest the deadliest of toxins without harm. Arsinoe is a naturalist, with the ability to harness the wildest of beast or encourage blooms to blossom.  Though separated from one another at a young age, they each remember the bond they once held. Now, however, they must treat family as foe if they have the slightest chance of becoming queen.


What a tremendously unique premise! I have to admit, I was on the fence about reading this one. I wasn't the biggest fan of her previous book (I know, I know) and it left me feeling hesitant.  Then, I heard Kendare speak about her book at a session at BEA (Book Expo America) and I was sold. I needed to read it that moment.  Why? Her inspiration for writing this book: a colony of bees.  Though there are other females in the colony, there is only one queen bee, one who will fight to the death to attain/retain her position.
The means Blake used to execute this inspiration was incredibly unique and intoxicating.  I picked up this book to read at a particularly stressful/hectic time in my life and from the moment I started reading, it erased all the craziness around me and enveloped me within its hold.
There are a lot of character names, most unique and oftentimes hard to recall. However, that these character names, these richly crafted individuals, were the impetus and source of such a powerful read made it all worth it (just keep extensive notes!). All in all, there is nothing negative that I can say about this title. I adored it so much that I plan to follow up with a listen of the audio, which I can only assume will be mesmerizing! Highly, highly recommended.