I received this book for free from the publisher in exchange for an honest review. This does not affect my opinion of the book or the content of my review.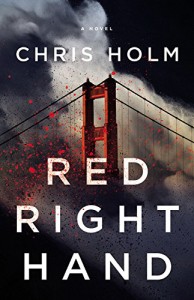 Red Right Hand by Chris Holm
Also by this author: The Killing Kind
Published by Mulholland Books on September 13, 2016
Genres: Thriller
Pages: 352
Format: eBook
Source: the publisher

After a boat crashes into the base of the Golden Gate Bridge in a terrorist attack, uncovered survivor's phone video footage shows the face of a former Federal witness, a man thought to be dead.  The organization he was going to testify against is now desperate to locate him, silencing him for good this time.

Charlie Thompson, a FBI Special Agent, is sworn to protect the witness. Unfortunately, her priority is now uncovering the identity of catching the terrorist behind the Golden Gate attack. Desperate times call for desperate measures. In this case, she calls on someone she knows she can trust: Michael Hendricks.

Hendricks is a former covert military operative turned hit-man (who hunts hitmen!).  When the Council, the same group hunting Charlie's witness, threatened those he loved, Hendricks "retired" as a hitman.  Hendricks knows he can't say no, especially when his participation is fueled by a young tech whiz set on revenge.  The two form an unlikely duo, thrown into a situation in which things are not as they seem, a terror plot in which it is impossible to tell the good guys from the bad.
I've been impatiently awaiting the release of this book for some time!  Hendricks is quite a character, an anti-hero who hunts hitmen. It's an incredibly insane plot but Holm pulls it off with expertise and ease.  Hendricks is a man with a rich and detailed past, a man who, on the surface, we should despise. Instead, he's likely one of the most respectable and likable characters of the bunch.  When one pictures a hitman, you think of a cold-hearted, rough around edges kind of guy.  While Hendricks fits the "rough around the edges" part, he's a man of morals..but completely capable of killing in the name of revenge.
In addition to being skilled at creating incredibly dynamic characters, Holm excels at writing intense scenes of action worth of the big screen.  These, joined with the characters and witty dialogue, come together to form an incredibly captivating thriller, one that kept my heart pounding long after I finished the last pages. Holm compels his readers to examine the fine line between good and evil, specifically when it's acceptable to cross over from one to the other.
While the reader is granted a bit of Hendrick's backstory, I do recommend reading the previous book, The Killing Kind to get a full perspective on Hendicks and his motives. It won't be a wasted read, I promise. Like me, you'll quickly become a devout fan of Chris Holm and his truly phenomenal writing style. Highly, highly recommended.