I received this book for free from personal copy in exchange for an honest review. This does not affect my opinion of the book or the content of my review.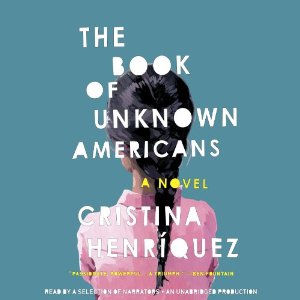 The Book of Unknown Americans by Cristina Henríquez
Published by Random House on June 3, 2014
Genres: Literary Fiction
Format: Audiobook
Source: personal copy

Arturo and Alma Rivera were born, grew up, married, and gave birth to their daughter, Maribel, in Mexico.  However, after Maribel sustains a serious injury, their only chance for recovery is to head to America. They leave their whole world behind with the hope that  country built on great opportunities and resources can help return their daughter to some semblance of her previous self. They move into an apartment complex, strangers in a new country, and begin their new life in America.

Mayor Toro is a teen boy around Maribel's age.  When they have a chance meeting at a Dollar Store, he's instantly smitten with her. This sparks a friendship between the two families and forges the backbone of this novel.

Surrounding the story of the Riveras and the Toros is a web of testimonials of men and women from Latin American who have come to America for a chance at a new life. Their stories are full of hope, of sadness, of determination and dedication.
I cannot believe it's taken me this long to read/listen to this book! So timely, even more perfect given the mood I was in when I started listening. I became instantly invested and dedicated to a series of individuals who came to our country for a better life, to attain the very things that we, as citizens, often hold for granted.  The title couldn't be more accurate; there is a whole gamut of immigrants who come to our country that we often ignore or forget, lumping them into one nationality even though their origins are dissimilar.
Listening to the audio, too, made it a more rewarding experience. Hearing the individual voices added dimension and scope, allowed them to be portrayed as actual people rather than names written on a page. Though often difficult to listen to, devastating at times, this is a book that, like the people it represents, should not be ignored. I'd go as far as suggesting that it be added to required reading lists at high schools. Henríquez has provided us with a truly unique gift, one that we should not ignore.  Highly, highly recommended.