I received this book for free from the publisher in exchange for an honest review. This does not affect my opinion of the book or the content of my review.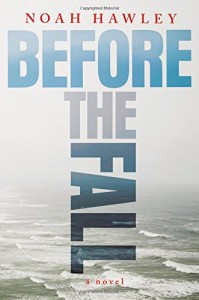 Before the Fall by Noah Hawley
Published by Grand Central Publishing on May 31, 2016
Genres: Mystery, Suspense
Pages: 400
Format: Hardcover
Source: the publisher

A private jet with eleven passengers departs from Martha's Vineyard, heading for New York City. Sixteen minutes into the flight, however, the plane plummets into the ocean. There are only two survivors: Scott Burroughs, a painter who managed who barely managed to get a seat on the plane, and a four-year-old boy, the only surviving member of a wealthy family.

Told in chapters alternating between what transpires after the crash and the stories of each of the passengers, this chillingly captivating and intense thriller forces its readers to question the concept of fate and tragedy that draws two unlikely individuals together.
This novel defied any preconceived notions or ideas I had about the premise. I dare to say there is such thing as your typical accident or tragedy story, but this certainly wasn't it.  It truly defies classification. While the climax is most definitely the plane crash, there is actually very little attention paid to the flight itself. Rather, Hawley focuses on the characters: what drew them together, their lives beyond what existed on the plane itself.  Additionally, it focused on our need, as human beings, to have an instant and immediate explanation for tragedies, even if it means rushing to judgement and punishing the victim.
Additionally, it truly is an intense thriller full of suspense.  A large majority of the individuals on the plane have a secret they are hiding from or a life they are trying to flee. Therefore, it wasn't out of the realm of possibility that almost anyone could have been culpable for the plane crash. Several possible motives were put forward, none were eliminated until the actual cause was revealed.
Also, it is a character study.  Not only of the passengers that did not survive, but those that did, mainly Scott himself.  He undergoes a significant transformation throughout the process.  His skill at painting horrific accident scenes make him a perfect candidate for public skepticism. He goes from hero to villain in a matter of moments, giving him barely enough time to process what has happened.
This is a perfect summer thriller (though I wouldn't recommend reading it on a plane). Highly recommended.