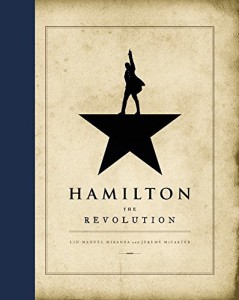 Hamilton: The Revolution by Jeremy McCarter, Lin-Manuel Miranda
Published by Grand Central Publishing on April 12, 2016
Genres: Non-Fiction
Pages: 288
Format: Audiobook
Source: personal copy, the publisher

We're all familiar with the revolutionary musical, Hamilton.  Lin-Manuel Miranda fuses hip-hop, pop, R&B to create a magnificent story of our nation's origins.  Hamilton: The Revolution goes a step further, granting readers/listeners insight into not only Hamilton's story, but the revolution both creators, Lin Manuel Miranda and Jeremy McCarter, embarked upon to tell this story.
I'm obsessed with Hamilton and I haven't even seen it.  I listened to the musical score on repeat; I forced my family to listen to it on a road trip. My ten-year-old son now has the lyrics memorized and quotes them often.
When I heard of the release of this book, affectionately referred to as the "Hamiltome," I knew I had to own it. So I bought the print copy from my favorite independent bookstore. Then, I was pitched the audio narration and I knew I had to listen to it, especially when I discovered Lin-Manuel narrated his footnotes.  What an experience it was!
Knowing the backstory behind the six-year-long mission to make this show possible made me appreciate it even more.  Lin-Manuel's passion is clear and evident already, but understanding the depths that he and Jeremy McCarter (cultural critic and theater artist) went through to make this happen left me in awe.  This is a story I feel they were born to tell and would stop at nothing to accomplish this goal.
Yet, must importantly, I learned about the family that made up this show.  That is no exaggeration, they truly became a family, each going through individually challenges and loses but faced them as one. Lin-Manuel hand-picked each and every cast member, never rushing or forcing a connection that wasn't meant to be. The long wait and arduous path was worth it, as we have come to witness with this outstanding production.
While I listened to the audio, I also had the print book on hand. I found myself listening to a bit, then rereading that segment, then moving on.  Without having the print on hand would have made Lin-Manuel's narration difficult, for he only narrates his foot notes, in order but not placed within the text.  For that reason, I believe this should be sold as a deluxe set, the audiobook sold with the print book, but not independently. Both are incredible pieces of art, no exaggerating. They left me breathless, speechless. The passion comes through in the narration, the true joy and enthusiasm comes through in the cast photos. The reader/listener feels that they, too, have become part of something big.
This is a book and audio production that I will keep in my collection for years to come. One day I'll look back and recall fondly on the first time I listened to the musical score, the first time I belted along at the top of my lungs.  One message that is resounding: both the story of Hamilton  and the story leading up to it, are immensely inspiring reminder that our nation was built by those stepping outside the box, individuals refusing to miss their shot!
Highly, highly recommended.