I received this book for free from the publisher in exchange for an honest review. This does not affect my opinion of the book or the content of my review.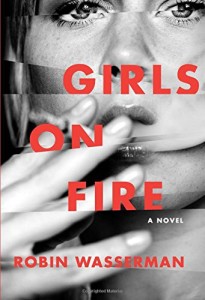 Girls on Fire by Robin Wasserman
Published by Harper, HarperCollins on May 17, 2016
Genres: Literary Fiction, Suspense
Pages: 368
Format: eARC
Source: the publisher

Halloween, 1991. A popular high school football player is found dead in the woods, a gun-shot wound to his head the cause of death.  The small conservative town in which he resided is terrified about the motive of this presumed suicide.

Hannah Dexter is a bright, yet largely friendless, young girl. When she is befriended by  Lacey Champlain, a Doc Martin wearing, incredibly seductive  young woman, the friendship quickly blossoms into a near obsessive relationship. Hannah, once a respectful, rule-following young woman is transformed into Dex, a defiant and rebellious teen.

When their close-knit friendship is disrupted by a former friend of Lacey's (who just happens to be Dex's nemesis), Dex quickly becomes wrapped up in Lacey's past, revealing a secret Lacey has hoped to keep hidden.
As I read the final pages of this book, all the expletives came flowing from me. That's not a complaint, it's praise.  Never did I imagine or predict what control and power this title held over me. I found myself reflecting on my own teen years, recalling the sheer intensity of some of my friendships (some of them with some not-so-respectful individuals).  I was a teenager, filled with raw emotions, wanting independence and my own identity, not yet understanding that I had no idea what I was getting myself into.  Recalling the sheer power of friendships, how quickly young woman can turn on one another in spite and revenge. It all came rushing back to me with a sheer intensity I nearly couldn't handle.
After I stepped away and took a breather, I was completely stunned how a book could force me to flash-back in time like this. I felt the emotions, the anger and resentment, I felt as a teen. The battle between the desire to be accepted and to hold on to one's independence and identity.
Wasserman gives both Lacey and Dex a voice in the narrative. The chapters alternate between the two girls, providing their honest and genuine perspective.  This vehicle allows the reader to gauge each perspective, gaining knowledge on their motives and true feelings, yet still, they both resist and hold back to a measure. Could it be their fear of admitting the truth to themselves, putting it in writing making it ever more real some how?  They hint and elude to the truth, but the full story doesn't come together until the final pages.
There is no sugar-coating in this book, Wasserman unleashes her characters at full-force. Simultaneously addictive and terrifying, this is a title that is certain to generate a wealth of discussion and reflection. There will be some who deny the plausibility of such a situation, a friendship with bonds so dangerous and destructive.  The path from teen to adulthood is a treacherous and painful one, incredibly terrifying to those experiencing it.  While this is fiction, it is so close to fact for many of us that this might actually read as a memoir or a testimony of life. I cannot believe I survived my teen years so unscathed. It's only the love of my family and true friends that I can say this!
I feel I should warn that there is a good deal of violence (and a great deal of sex).  Once again, these attributes are not done without purpose or motive, but precise placement in order to generate a genuine and true-to-life experience.
I read this book in one sitting. There is absolutely no place in which I felt the pacing lagged. I couldn't tear myself away, I was so involved in this train wreck of a relationship that I couldn't return to the real world until I reached the end. It left me shattered and stunned, my mind shattered. I had chills down my spine…for what Wasserman writes about in this specific title may be fiction, but in life is actually fact. She captures the essence of these young woman so perfectly that you are certain they are "real" individuals, so genuinely that I'm having a difficult time removing them from my thoughts.
Highly, highly recommended. Certain to be one of my favorite books of the year.
Thank you to TLC Book Tours for providing the opportunity to take part in this tour.