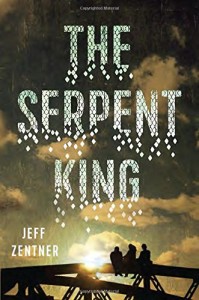 The Serpent King by Jeff Zentner
Published by Listening Library, Random House, Random House Books for Young Readers Genres: YA
Pages: 384
Format: Audiobook
Source: personal copy

Dill and his best friends Lydia and Travis are entering their senior year of high school.  They are outcasts, yet their creativity and uniqueness brings them together.

Dill is the son of a Pentecostal minister, known for his extreme faith, now serving time in jail for a crime he blames on his son.  Shunned by his family, his faith, and his peers, he struggles daily to see the light at the dark end of the tunnel.

Lydia hosts a highly popular fashion blog.  Her online popularity doesn't carry over into her real life, however. Her blog is her out once they graduate; she has a clear and open path to a successful future.

Travis is so immersed in the world of his favorite epic fantasy book series that he doesn't pay attention to the jeers he receives from his classmates. He's found friendship, and potentially more, with a girl he met on an online fan forum.  Despite this, he cannot escape the rage and abuse he receives at the hand of his father, a alcoholic unable to deal with the death of his older son.

Three very unique individuals.  These differences threaten to destroy the friendship they've forged for so long.  It's up to Dill to face the weight that threatens to pull him down, to rise above the hatred to see there is a life worth living, and fighting, for.
Typically, I attempt to avoid books receiving quite a bit of praise, waiting for the fanfare to die down before experiencing it myself.  When I found myself in a bit of a book slump, this title seemed to be the cure.  Never did I imagine the impact it would have on me. As I listened, I experienced feelings of joy, of sadness and devastation. I laughed out loud, I sobbed. It's been some time since a book has had such an impact on me, leaving a clear and evident mark on my soul.
I rarely say that a book is perfect. Often, I find flaws or things that I would want to change. That's not the case with this title. There is absolutely nothing that I would change, despite the overwhelming feelings I felt as I listened (I'm trying desperately not to divulge any major plot points, here!).
Zentner so expertly picks up and showcases the feelings of loss and of isolation that Dill experiences.  He has so many expectations placed on him because of his name and his faith. He was constantly in a battle between what is expected of him, and what he expects of himself. Unlike Lydia, he has no prospect of a better life beyond high school. He's expected to work full time at a local grocery store to help pay off the debt his father's crime has incurred. He's supposed to sacrifice his own future for the happiness and security of his mother.  It takes a life-altering experience to startle him into reality, to see that there is hope if he puts his own well-being before that of others.
While there are religious overtones, don't let that sway you from reading (or listening!) to this book. It's not preachy at all, instead focusing on issues that many of us can relate to or, if not, at least sympathize with. This is one of those books I want to put in the hands of all high school students, for it provides a sense of hope in a world that can often feel alone and overwhelming.
The narration, too, was spot on, the narrators expertly portraying the role of three teens. They captured the angst, the frustration, of Dill, Lydia, and Travis.  They didn't sound like adults struggling to sound like teens. It was natural, free-flowing, perfect.
Bottom line: this is a title that will change you, despite your age or place in life. Highly, highly recommended.