I received this book for free from the publisher in exchange for an honest review. This does not affect my opinion of the book or the content of my review.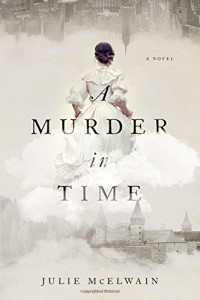 A Murder in Time by Julie McElwain
Published by Pegasus on April 11, 2016
Genres: Crime Fiction, Historical Fiction, Suspense, Thriller
Pages: 320
Format: eARC
Source: the publisher

Kendra Donovan is a brilliant FBI agent full with a bright and successful future ahead of her in the agency. Everything changes when, during a raid, half of her team is murdered and a traitor within the ranks is revealed.  Severely wounded after the raid, Kendra had plenty of time to think about her next actions. Willing to risk her career, she vows to go after the man responsible for what transpired.  She travels to England in an attempt to take his life, only to find her own life in danger. She flees into a hidden stairwell that has a promise of escape.  When she awakens, she finds herself still within Aldrich Castle, the scene of her assassination attempt. Rather than finding escape, the stairwell has taken her back to the year 1815.

Mistaken for a lady's maid, Kendra is forced to act quickly to maintain this identity, while simultaneously attempting to figure out how she got there and how to return. When the body of a young woman is found on the grounds of the estate, Kendra begins to wonder if her placement in this time was intentional.  As the deaths increase, so does Kendra's determination to uncover the identity of the brutal killer. Without her modern tools of investigation, Kendra must rely on intuition to bring down the killer, uncovering a horrific secret group as she does so.


No reason to hold back, there is nothing about this book I didn't enjoy! It captures so much of everything I love in fiction, into one beautifully wrapped package.  Time travel, suspense, romance, history…this novel genuinely has it all.  Imagine the most hard-headed, strong-willed, determined female protagonist and that's what you'll find in Kendra. Though she's transported to a time in which women are seen as weak and simple-minded, she doesn't allow that to stop her in her mission. It was actually quite funny that she blamed her "inappropriate" behavior on the fact that she was an American.
Additionally, it was quite entertaining for Kendra, a child prodigy and truly brilliant agent, to be forced to use solely her intellect to bring down the killer. That's not to say she didn't have the ability to do so, yet in modern times law enforcement often relies on the latest and greatest technologies to aid in investigation.  Kendra used only the gifts bestowed upon her by her own…scientifically manipulated…birth. If that doesn't pull you in, I don't know what will.
What I wish the author would have expanded upon was the cause of Kendra's time-travel and, perhaps, what happens after the final pages. My hope would be for this to be the start of a new series.  One can dream, right?
All in all, this was a highly addictive, intensely fast-paced read. I enjoyed every bit of it! Highly, highly recommended.