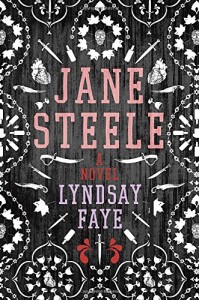 Jane Steele by Lyndsay Faye
Published by G.P. Putnam's Sons on March 22, 2016
Genres: Historical Fiction, Thriller
Pages: 432

"Reader, I murdered him."

Young Jane Steele has suddenly found herself an orphan, her father dying years before, her mother taking her own life. Now, she's forced to reside with an aunt who despises her and a cousin who forces himself upon her.  She agrees to be sent to a girls school where, unfathomably, the torment is worse. She flees once again not before taking the life of her tormentor. Now in London,  she discovers that her aunt has passed away, her childhood home now has a new owner. The fates seem to be aligning, for the new owner, Mr. Charles Thornfield, is seeking a governess.

Assuming a new name, she becomes a governess, living within the very walls she once called home. The new residents are quite interesting, their pasts a deep and dark mystery.  Jane has a past of her own, and as she gets closer to Thornfield and the young girl in his care, she wonders how long she can maintain her facade.
Why should you read this book?
It's inspired by  Charlotte Brontë's classic Jane Eyre. My favorite classic.
Hello, Lyndsay Faye!?!?
A bit more explanation: when I learned the premise of this book, I knew I had to have it. Never did I worry about how my favorite classic would be twisted and distorted.  A long-time fan of Faye's writing, I put full and complete trust in her writing abilities and knew from the very beginning that this book would be tremendous…and it is!
Sure, Jane Steele's a serial killer but she doesn't kill just out of fun, but instead to protect herself and the lives of those she cares most about. She's cunning, brilliant, hard-headed, and intimidating  in a time period in which women didn't have much more regard than livestock.  They existed to care for their spouses and their family and, if they had neither, they become governesses.
Now, don't read the premise of this book and dismiss it as an absurd retelling of a treasured classic. For that, it is not.  There are only minor similarities between the two, Jane Steele actually referring to Jane Eyre on occasion.  Jane Steele is actually quite the opposite of Jane Eyre. She doesn't stand by and let life, and the men in it, take advantage or control of her. Jane Steele wields a knife and isn't afraid to use it.
With Faye's tremendous skill, she is able to generate a truly thoughtful, contemplative, historical thriller. It's not weighed down by overly formal prose, instead it pulls you on immediately with a perfect combination of descriptive detail and witty humor.  I quickly became enamored by Jane Steele's character. I wanted her to be my BFF.  Sure, she's a serial killer but one with genuine feeling and remorse. I wanted to hug her after she lost her mother, was forced to leave her family home, only to deal with years of additional abuse.
Honestly, I could go on and on about this one. There is so much to capture, to share, to enjoy.  Bottom line: "Reader, I devoured it!" So highly, highly, recommended.