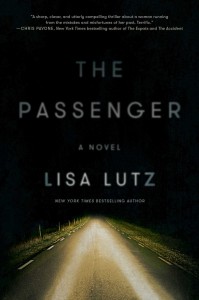 The Passenger by Lisa Lutz
Published by Simon & Schuster on March 1, 2016
Genres: Suspense, Thriller
Pages: 320
Format: eARC
Source: the publisher

When Tanya Dubois finds her husband's body at the bottom of the stairs, she doesn't call the paramedics or the police. Within two days, she's dyed her hair, cashed in her credit cards, changes her identity, and flees town.  Despite her actions, she insists she didn't kill him.

After a few days on the road, she meets Blue, a bartender who recognizes Tanya's a fugitive. Rather than turning her in, she offers Tanya (now Amelia) a place to stay.  Reluctant, but with few other options, Amelia agrees, the two forming an unlikely and dangerous partnership.

Amelia soon learns that she and Blue have a lot in common, both attempting to remain off the grid.  When Amelia takes on yet another identity, she soon learns that running from one's past brings a host of unavoidable conflicts and risks. most often with deadly consequences.
Wow, what a read! It sounds cliche, but this book took my breath away. Just when I thought I knew where the book was heading, I was taken on a completely different path, my heart pounding and pulse racing, a willing victim to Lutz's tremendous talent. She clearly did her research on this one, truly grasping how difficult it is nowadays to truly rid oneself of their identity.
As I read, I started to pick up that there was more to Tanya/Amelia's desperate attempt to flee.  Though wary, she seemed far more…prepared to disappear than your typical individual.  Interspersed between chapters are email conversations between an individual named "Jo" and a man named Ryan.  These conversations initially seem confusing, yet not long into the book do we realize that Lutz is using this communication to provide background and setting to Tanya's character.
I've been a fan of Lutz' work since the Spellman Files. Just when I think I couldn't love her writing any more, she does something like this, making me a fan for life. Highly, highly recommended.