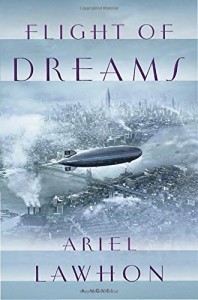 Flight of Dreams by Ariel Lawhon
Published by Doubleday Books on February 23, 2016
Genres: Historical Fiction
Pages: 336
Format: ARC
Source: the publisher

In May, 1937, nearly 100 passengers boarded the Hindenburg for what would be its final flight. Of course, they didn't know this in advance.  Later, investigators would look into technical causes for the Hindenburg's deady crash. Instead, they should have been looking at the passengers.

Emilie is the only female crew member, her praises were sung all over the news prior to the Hindenburg's departure.  She has an ulterior motive for being on this craft.  She's not alone.

Max Zabel is the Hindenburg's navigator. He's passionate about his job, yet he can't hold back his feelings for Emilie. He's discovered what she plans to do and is determined to stop her, or at least prevent her from any unnecessary harm or danger.

Gertrude Adelt and her husband are both journalists on a forced book tour.  They were forced to leave their infant son behind, insurance to guarantee that that they complete the tour.

The "American," a man with a keen interest on the passengers and activities on the Hindenburg.

Wermer Franz is a fifteen year old cabin boy, just trying to support his family after his father has fallen ill. He's desperate to gain the respect of his peers, yet still unsure of his role in this journey.

Five unique individuals, all with unique motives for being aboard this doomed vessel.  What if it wasn't technical failure that brought down the Hindenburg? What if it was caused by the passengers themselves?
Lawhon excels at uncovering an event from the past and putting her own spin or explanation to it. She's thoroughly succeeded once again.  Though the build-up was a bit slow at times, the intensity quickly picks up as each of the characters is laid out and developed. Each chapter is devoted to a different character's point of view.  As I watched them interact with one another, I was desperate to connect them, hoping to uncover the identity of the person behind this horrific crash.  Yet it wasn't until the end that all the pieces came together into a surprising conclusion.
There were some aspects of the story that were just hinted at, that I wished would have been elaborated upon.  It's likely that these details existed in earlier drafts but were removed during the editing process, but I felt as though I was lacking a connection with some of the characters due to lack of details.
Despite all this, I found this novel to be incredibly engrossing. I read it in one afternoon, completely losing myself in this unique retelling of the Hindenburg crash.  Highly recommended.