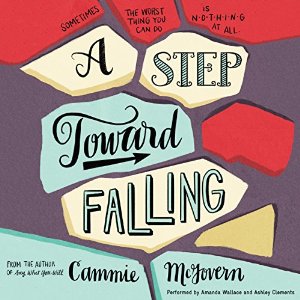 A Step Toward Falling by Cammie McGovern
Published by HarperAudio on October 6, 2015
Genres: YA
Format: Audiobook
Source: personal copy

Emily is the type of girl who has always done the right thing.  Yet one night, she freezes, and watches as a classmate with developmental disabilities is attacked.  Belinda, the classmate, is able to stop the attack on her own.

When the school learns what transpired, Emily, and a football player named Lucas who also witnessed, but didn't stop, the attack, are ordered to perform community service at a center for disabled people.

Emily is so horrified at what she's done that she lies to her friends about her work at the center.  Yet as her community service continues, she sees that the work she and Lucas are doing is of great benefit to the group.  Still, she worries that the person that needs the most support isn't a part of this group, and struggles to find a way to rectify the damage they've done.
What a rewarding listen! Told from the perspectives of Emily and Belinda, listeners get a well-rounded experience of how both sides of this situation have fared. Most importantly, however, is how both girls, despite their differences, have far more similarities than they could have imagined. As time goes on, we see that they grow and learn from one another.  Yes, Belinda has developmental disabilities, but that doesn't make her less of a person.  McGovern has created such a well-rounded character in Belinda.  She's quite easy to relate to (hello, she loves the Colin Firth Pride & Prejudice movie!), allowing readers/listeners of all types to bond with her instantly.
Emily's character, too, is genuine and well-crafted. She has the typical emotions of a teen her age, yet she's mature in many other ways. Despite the fact that she didn't act to save Belinda, she's willing and ready to help mend Belinda's wounds, going above and beyond what is expected of her.  Together, they understand the importance of looking beyond one's appearance, beyond the first impressions, before judging an individual.
The audio portion is spot on, each narrator giving these two girls their own unique voice. I firmly believe that listening, as opposed to reading, added a completely different dimension to my experience with this book.
All in all, this is an absolutely heartwarming, uplifting read. There are some tough bits in there; I was moved two tears on multiple occasions.  Though technically a YA novel, this is a book adult readers would appreciate as well, a book I won't soon forget. Highly recommended.