I received this book for free from the publisher in exchange for an honest review. This does not affect my opinion of the book or the content of my review.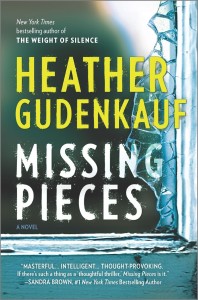 Missing Pieces by Heather Gudenkauf
Published by Harlequin, Mira Books on February 2, 2016
Genres: Suspense, Thriller
Pages: 288
Format: eARC
Source: the publisher

Sarah Quinlan's husband, Jack, lost his parents when he was just a teen.  He and his sister were raised by their aunt Julia.  When they learn that Julia is in a coma after an accident at home, Sarah and Jack return to his small farm hometown of Penny Gate, Iowa.  Jack was always reluctant to go home, keeping much of his history from Sarah.  Sarah assumed it was due to the loss of his parents, but once they return to Penny Gate, Sarah learns there is much more she doesn't know about her husband.   Concerned about her own safety, she digs deep into the Quinlan family's past, unfortunately revealing secrets that may put her, and their daughters, at risk.
I've been a fan of Gudenkauf's writing for some time, devouring each book as soon as it releases.  She is an expert at portraying the intricate details of small-town life: the relationships, history, and secrets.  Most importantly, however, she captures the the very core of the characters, portraying and revealing to readers in a wholly realistic and captivating way.
This novel is told from Sarah's point of view. An investigative reporter before she married, it's within Sarah's nature to question facts that may seem questionable or suspicious. It was thrilling to follow her as she uncovered the mysteries of her husband's past.  I was completely thrown when the secrets became public, the identity of the true culprit of all the horrific events revealed.
Bottom line: if you are intrigued by quickly moving, intense thrillers about small-town life, this novel, and all of Gudenkauf's backlist, are for you.  It's a book that will captivate you, demanding that you read it in one sitting. Highly recommended.