I received this book for free from in exchange for an honest review. This does not affect my opinion of the book or the content of my review.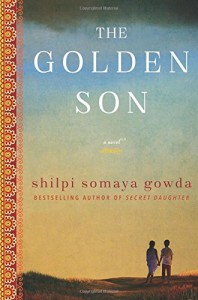 The Golden Son by Shilpi Somaya Gowda
Published by William Morrow on January 26, 2016
Genres: Literary Fiction
Pages: 408

Anil Patel is the first of his family to leave his tiny Indian village to begin his medical residency in Dallas, Texas.  Always the golden son, he struggles to fit in with the competitiveness of the hospital while simultaneously maintaining his culture's traditions.  When he's forced to take over his father's role as  arbiter for his village's disputes, his lack of confidence forces him to struggle with his new responsibilities, both for his village and his residency.

Anil's closest childhood friend, Leena, remains at home in India but, too, is forced to undertake a new role. She weds in a marriage arranged by her family. Her hopes of love and romance are quickly shattered and she, too, begins to question her identity.

Though separated by continents, Leena and Anil both undergo similar tests of their identity and fate.  When reunited once again, it changes their lives, and the lives of those around them, immeasurably.
I know it sounds cliche, but I genuinely read this book in one sitting.  A daunting task, given my attention span and the length of this novel, but I quickly became obsessed with the lives of Anil and Leena.  They embarked on wholly unique journeys but experienced the same outcomes: a struggle to maintain their identity and live up to the hopes of not only others, but of themselves as well.  Though Leena did not depart to an unfamiliar country, her journey was just as profound, if not more, than Anil's. His family is wealthy, giving him more options for a future. She was forced to reckon with the life that was dealt to her, no options or alternatives. Both were forced to fight for their survival, both physically, mentally, and emotionally, in order to survive in a world new and unfamiliar to them.  Fate is a powerful thing, clearly in evidence with these two young individuals.
I made a conscious effort to remain as "generic" as I could in this review. Reading it is truly an adventure: following the paths of these two individuals on their quest for growth while caught in traditions of the past that quarreled with those of the future. The struggles they face are often difficult and not easy to experience, yet I felt that, as I reader, I grew right along with them. Highly, highly recommended.
Thank you to TLC Book Tours for providing me the opportunity to participate in this tour!