I received this book for free from the publisher in exchange for an honest review. This does not affect my opinion of the book or the content of my review.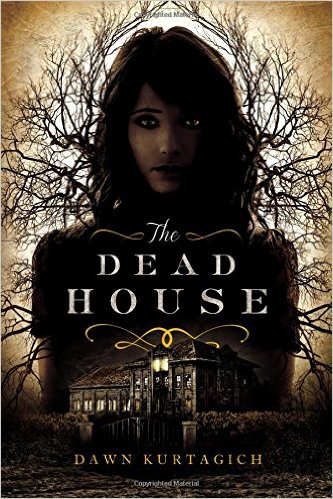 Dead House by Dawn Kurtagich
Also by this author: And the Trees Crept In
Published by Hachette Audio on September 15, 2015
Genres: Horror, Paranormal, Suspense, Thriller, YA
Format: Audiobook
Source: the publisher

Over twenty years ago, a fire destroyed Elmbridge High, killing five teenagers in the process.  Little was known about what led up to the deadly night, or what happened to one student, Carly Johnson. Then, a diary is found in the ruins.  The diary, scorched from the fire, belongs to Kaitlyn Johnson.   Kaitlyn was not a student at Elbridge, so what is her connection to Carly Johnson? The diary uncovers secrets long buried in the ashes.  The police reopen the case. They examine the psychiatric reports, video footage, text messages, emails. What they uncover is far more sinister than what was relayed to the public.

Told using this found footage, The Dead House tells the story of Carly Johnson, a patient undergoing treatment at British school affiliated with a psychiatric facility.   She's being treated for dissociate identity disorder.  Her alter is Kaitlyn.  The two identities co-exist: Carly exists during the day and Kaitlyn takes over at night.  Carly's psychiatrist believes this disorder is a reaction to Carly's parents' death.  Only one of the identities knows what really caused the accident that tore her parents from her.

Carly and Kaitlyn refuse to believe in the diagnosis.  They have co-existed for so long, two souls in one body, since birth.  Even Carly's younger sister (living with foster parents) can see and differentiate between the two identities.  Carly and Kaitlyn communicate through journal entries and notes left for one another.  As part of her treatment, Carly's doctor attempts integration. What they believe to be a success is actually the downfall of Carly and Kaitlyn...with deadly consequences.
Just writing the synopsis for this review gives me the chills! I listened to the audio production of this novel and, I've got to say, it's the best I've listed to this year.  It is absolutely terrifying.  The tone of the narrators, the sound effects used, truly added to the overall experience. It takes a lot to scare me, and this one had my heart pounding from the very beginning. I longed for excuses to listen; I couldn't tear myself away.
Kurtagich has succeeded in crafting an incredibly unique and compelling read. As if the unique plot wasn't enough, she used the newspaper clippings, diary entries, and video footage to add authenticity and intrigue. I was worried how these would carry over into the audio production, yet it was carried off without a hitch.  I felt as though I was immersed in the events that led up to the culminating event.  And that lead up? Wow, was it intense.
The takeaway from this novel is completely individual.  Those who believe Carly/Kaitlyn's story will view it as a completely chilling and terrifying horror.  Those more skeptical, who believe the psychiatric diagnosis to be true will perceive it as an engaging and intense thriller.  No matter which path you take, it is certain you will be awed by the pure brilliance.  I'm still reeling over the experience, days after finishing it.
As if the novel itself weren't enough, the author note gives an explanation behind her motivations for writing this book. Without revealing too much, it added authenticity and validity to what transpired.  I know there are some readers who skip over this portion of a book, but I do implore you to read it.
Though I have the print copy of the book and can state that the format is impressive, I can't help but think the audio book route is the one to take in this instance.  No matter what format you use, prepare to devote every waking minute to this book. You won't be able to tear yourself away, I guarantee it. Highly, highly recommended.