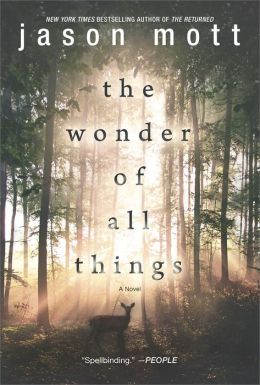 The Wonder of All Things on July 28, 2015
Pages: 304
Format: Paperback

The crowds of the Fall Festival in Stone Temple, North Carolina, had their eyes to the sky. Matt Cooper, a former Stone Temple resident, had returned to his hometown with a traveling air show to dazzle the crowd.  The awe quickly turned to horror as his plane crashed into a crowd of spectators. Such a scene should have killed more people, yet only the pilot himself fell victim. As they pulled the wreckage away, they found two teens curled up together: thirteen year old best friends Ava and Wash.  As the rescuers looked on, Ava places her hand over Wash's injuries and are shocked when he is miraculously healed.

As the world learns of Ava's healing powers, the small town of Stone Temple becomes inundated with those begging to be healed.  They feel that Ava's powers are from a higher power, that she is meant to heal all who come to her. Unknown to many is is the severe physical side-effect of Ava's healing powers, as if she's transferring the very essence of her being into the bodies of those she's healed.

Soon, she's forced to come to terms with her powers. Is it worth putting her own life in danger to heal the lives of those around her?
The Wonder of All Things is one of those novels that captures you from the first pages, unrelenting, even long after you've turned the final pages.  I read and adored his previous novel The Returned and high hopes about this sophomore novel. Those expectations were met, and exceeded.  As with the previous novel, it's far more than the text contained between the covers. It carries a message that forces you to reflect upon your own life, how you would act if put in the main characters' shoes.
Ava is more than just a vessel of healing. She, too, deserves and needs to be healed, but in more of an emotional manner than physical.  Having lost her mother to suicide a few years ago, she struggles with the feeling that she may have caused her mother's death.  If not, why couldn't/didn't she save her. Following each of her healings, however, she is rewarded with another memory of her mother. The physical pains he endures is almost worth it, given this ability to reconnect and rediscover her mother.
Additionally, she is surrounded by those who have experienced loss, requiring emotional healing.   Macon, her father, is the town sheriff.  Now remarried and expecting another child with his new wife, he struggles with this new power of Ava's.  They are struggling, financially.  Can he take advantage of his daughter's miracle and use it to reestablish their family financially?  Additionally, he struggles with religion (or the lack of it) in their home. Followers of all faiths begging him to become a part of their congregation/following, with the intent of doing the very same thing: using Ava to strengthen them from within. Walsh, Ava's best friend, is struggling with the return of his father, who disappeared following the death of his mother. The past several years he's been living with his grandmother.  Now, the man he should look up to has returned to his life.  Is he really interested in reuniting with his son or is he, too, interested in taking advantage of Ava?
Mott's poetic writing style draws readers in, so effortlessly, in this unique and awe-inspiring novel.  This is one people will be talking about, from the circles of reading groups to passengers on public transportation.  You will beg for the ability to read it in one sitting, for it is truly captivating with an unrelenting message and power.  Highly, highly recommended.
Thank you to TLC Book Tours for the opportunity to participate in this tour!