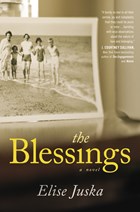 Hardcover: 272 pages
Publisher: Grand Central Publishing (May 6, 2014)
ISBN-10: 1455574031
Source: Publisher
The Blessings are a large, tightly-knit family.  Celebrations are large and grand like the family itself. When John Blessing, the oldest son, passes away at a young age, his death causes a rippling affect that alters the lives of each generation. While the family was able to deal with his father's death months early, John's death came far too soon and at far too young an age. Some family members, like his wife Lauren, found solace and comfort in the family.  Others, like his nephew, followed a darker path.  Despite the different courses each family member decides to take, the strength of their family continues to unite them.
Told in chapters alternating between the many family members, readers follow the Blessings family in the years following John's death. The battles and obstacles they face are not easy, ranging from infertility to eating disorders and the slow decline of older family members. For this reason, readers from all walks of life will find a connection with this family.  They are flawed, far from perfect. We see them at their strongest moments and feel the urge to comfort them at their weakest. A genuine family, one that will have a lasting impression.
Initially, upon reading the novel's synopsis, I feared the tone would be dreary and depressing. It was actually the opposite; the story that Juska creates in The Blessings is a heartwarming and uplifting. It reminded me my own family's blessings, the ties that bind us together, the times we are drawn together in loss and in celebration. In the end, The Blessings lived up to it's title. Upon reading the final chapters, I felt blessed to have met and experienced this fine family and reminded of the blessings within my own. Highly, highly recommended.