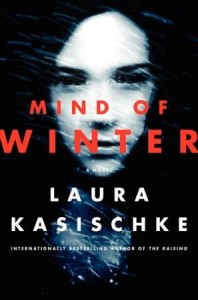 Hardcover: 288 pages
Publisher: Harper (March 25, 2014)
ISBN-10: 0062284398
Source: Publisher
Holly Judge awakens on a snowy Christmas morning with remnants of a nightmare racing through her head. Thirteen years ago, she and her husband traveled to Russia to adopt their daughter, Tatiana.  The thought that races through her head – Something followed them from Russia – terrifies her. They were warned to name her something American, to prevent her life in Russia from following her, but they wanted to pay homage to her home country.  Now fifteen, Tatiana is a beautiful, raven-haired young woman.
The craziness of the day prevents Holly from pondering the nightmare any further. Her husband, Eric, has left in a rush to pick up his family from the airport. They are hosting Christmas dinner and the few hours they slept in has Holly rushing frantically to prepare for the day. When the blizzard raging outside prevents their guests from arriving, including her husband and in-laws, Holly and Tatiana are left alone.  As the hours pass, Tatiana's behavior changes drastically, almost a shell of her original self. It is as if a stranger is in the house with her…
I don't know about you, but the concept of a raven-haired orphan reminds me of one thing: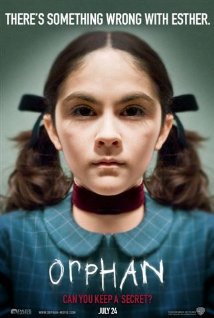 I mean, the resemblance to the young girl on the cover of the book is uncanny, right?
Taking a step back, the resemblance in the appearance in the young girls is the only thing these have in common. What Holly learns as the cold, desolate, Christmas morning progresses is far more terrorizing, in my mind.  Holly reflects back on their visits to the orphanage and the experiences they have while visiting the orphanage. The cold starkness of the orphanage is reflected in the blizzard outdoors, now, thirteen years later.
The tension Kasischke is slow but heavy.  The reader knows the reveal will be quick and terrifying. And it was. In just a few pages, everything changes for this mother and child. The emotions readers face while reading this intense thriller will range from joy, to terror, and then sadness. I'm not going to sugar-coat it. The ending hits you like a punch to the gut.
So why read this novel? It's simultaneously brilliant and terrifying. Like witnessing an accident, you can't tear your eyes away. You'll question everything, finding it difficult to separate truth from illusion.  Completely mesmerizing, don't be shocked if you read this relatively short book in one sitting.
What stands out for me is how Kasischke used Holly's self-doubt and own mental insecurities to build up and reveal the terror she is about to face. The reader follows as the life she thought was perfect is slowly chipped away and the horrific reality hits her out of nowhere.
While the premise might lead readers to believe this is a horror novel it actually isn't. Instead, it's a emotional, gut-wrenching, mind-altering psychological thriller. Kasischke raises the bar high for other novels like this, for it's going to take a lot to terrify me more than this novel did.  Highly, highly recommended.
Thank you to TLC Book Tours for providing me the opportunity to review this title. Be sure to check out the other stops in the tour.