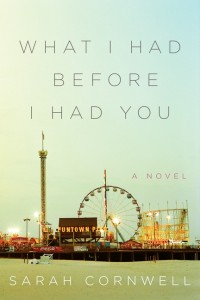 Hardcover: 288 pages
Publisher: Harper (January 7, 2014)
ISBN-10: 0062237845
Source: Publisher
Olivia Reed didn't have the most stable of childhoods. Her older sisters, twins, were stillborns who died a year before Olivia was born and are forever memorialized by her mother, Myla, a bipolar psychic. One of Olivia's many tasks around their home is to clean the nursery, a morbid constant reminder of loss Myla cannot forget. Myla refuses to admit the girls are gone, going as far as preparing bowls of food to feed them. And then there is Olivia, a girl of fifteen just coming to terms with her own identity, forgotten by her own mother. Myla would have manic sessions and then disappear for weeks, forcing Olivia to fend for herself.  This abandonment led to rebellion and at fifteen, the summer of 1987, Olivia left her home of Ocean Vista.
Fast forward twenty years and Olivia has returned to Ocean Visita, this time with her two children, her teen daughter Carrie  and a nine-year-old son, Daniel, recently diagnosed with bipolar disorder. Olivia is running from the life she had in Texas, desperate for some solace after her divorce. However, instead of a quiet and calm reunion, she is forced into panic and terror when Daniel son goes missing.
Alternating between past and present, What I Had Before I Had You is a hauntingly poignant examination of bipolar disorder and how it affects not only the individual diagnosed with it, but how it is passed on and forever alters those around them. Myla believed the disorder granted her the gift of her psychic visions and never received treatment for the disease. Olivia learned to handle her symptoms, desperately trying to balance this "gift" passed down to her by her mother with the demands of being a mother.
What moved me the most about this novel is its impact. Not only is Oliva on a desperate search for her missing son, she is also seeking some answers to her own identity, aching to come to terms with who she really is. A powerfully moving novel, What I Had Before I Had You is a heart-wrenching, intensely thought-provoking experience. Days after finishing this novel, I'm still processing the intensity of its message.  Highly, highly recommended.
Thank you to TLC Book Tours for providing me the opportunity to review this book. Please be sure to check out the other stops in this tour!