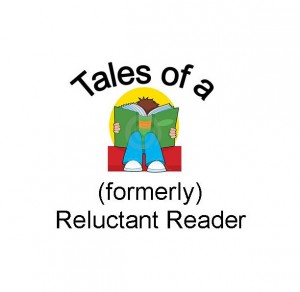 Tales of a (formerly) Reluctant Reader is a feature in which my oldest son John,  a formerly reluctant reader) discusses books that he thinks other reluctant readers (former or not) will enjoy!  Today's book is Guys Read: Other Worlds :
Age Range: 8 and up
Grade Level: 3 – 7
Paperback: 352 pages
Publisher: Walden Pond Press (September 17, 2013)
ISBN-10: 0061963798
Source: Publisher
I don't read a lot of fiction, but when I do I am most excited about books about outer space and spaceships, maybe because I'm such a big Star Wars fan. My mom calls this science fiction. I call it awesome.  Anyway, I'm a big fan of the Guys Read series already, so when my mom told me they were coming out with one about science fiction I was beyond excited. Then (it gets even better!) I saw that it included stories from some of my favorite authors like Tom Angleberger and Rick Riordan and I was sold. Epic, right!?
What I've learned is that while I don't always like to read long books (sorry mom!) I don't have a problem reading shorter stories. I think a lot of kids who don't like to read will like this, too. It's like you get a really great story in just a few pages. I can read an entire story in just a few minutes. It's brilliant, really.
I don't want to say too much about each of the stories so instead I will tell you about my favorites:
Percy Jackson and the Singer of Apollo by Rick Riordan: Ok, this one was just funny!! We all know who Percy Jackson is, right? Anyway, in this story he's trying to celebrate his friend's birthday when they run into Apollo. Yes, that Apollo. Apparently Apollo is trying to do a concert but he's missing one of his backup singers. I'm totally serious! Percy has to help find this singer because, really, who can say no to Apollo. My mom says this story isn't printed anywhere else so, Percy Jackson fans, don't miss this!
Bouncing the Grinning Goat by Shannon Hale: I really liked this one! The main character is a girl who is pretending to be this really tough warrior from this place that has a really bad reputation. She's able to lie about it for a while but has to face the truth when they are actually attacked by some really bad creatures. I guess it sort of teaches a lesson about being true about yourself. I just thought it was awesome.
The Scout by D.J. Machale: This one was my favorite, by far!! You think you are reading about this kid who is a Scout (I thought Boy Scout because I am one) and is trying to get out of camping with the other Scouts. Turns out to be far, far different than what I could have every imagined.
The Dirt on Our Shoes by Neal Shusterman: This is another one of my favorites. These people have been in space for 60 years and are finally landing on a planet that they will call home. Turns out the whole point of the trip was a lie. It has some pretty gross scenes in it (that involve…you know…poop and stuff) but overall it was pretty great.
So these are my favorites. I liked the other stories but probably not as much as these.  The other stories are from authors that my mom really likes: Shaun Tan (he writes graphic novels) and Ray Bradbury (we read his book The Halloween Tree every year). I mean, I liked them enough but the Ray Bradbury one was  kind of creepy.
What I really want to say is how great this book would be for kids who have a hard time reading a really big book. This just shows that sometimes big things come in smaller packages (kind of like me, haha!). And I know my mom says it's not nice go call books boy books or girl books. This definitely looks like a boy book (it does!) and it is called "Guys Read" but I think girls would really like it too.  So, run out to your favorite bookstore and pick this one up. It just came out yesterday so be the first of your friends to own it. If they don't have it, though, I'm sure you can find one of the other Guys Read books. They are all pretty awesome.