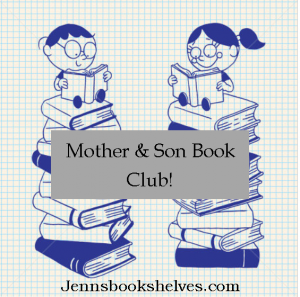 One of the many ways my son & I connect is through books. While he goes through phases when he's lost interest in reading, when he does discover a book he's loved I'm the first one to know.  This is something I want to nurture: the relationship he and I have together surrounding books.  In many cases, if he tells me about a book he's interested in, I end up reading it myself simply because I enjoy the discussion it fuels.   Then I started thinking that there are certainly other mothers & sons out there that do this.  I did a little research online and couldn't find many mother/son book clubs out there, at least ones that are virtual.  And, what happens when I start thinking? New project suddenly appear!
I would love for others to get involved and join.  I'm still working out all the logistics (like types of books to read, etc.) but to start off I'd simply like to get an indication of interest!  If you are interested in participating, please indicate so in the comments below.  My boys are 8 and 14 so this book club would focus on middle grade/early young adult titles.  Also, if you have any suggestions on book selections, please feel free to include those as well. 
Since school has just started for many, the plan would be to start reading the book at the end of September and discuss it at the end of October and repeat for subsequent months. Discussion will take place here on the blog at first, via comments,and eventually moving it to Twitter or Facebook as the interest grows. Starting off at least, let's keep it simple!
EDIT: To make it easier to collect information for those interested in participated, I have created a simple form below. Please use this in addition to commenting!