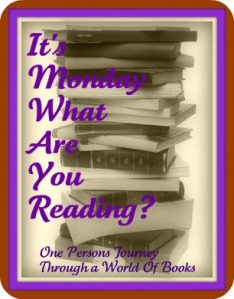 It's Monday! What Are You Reading This Week? This is a weekly event to list the books completed last week, the books currently being read, and the books to be finish this week. It is hosted by Sheila from One Person's Journey Through a World of  Books so stop by and join in!
Books Completed Last Week
So, I think my reading groove is back!

Calling Me Home by Julie Kibler (reread)
Three Graves Full by Jamie Mason (review)
The Truth about Love and Lightning by Susan McBride
Devil's Wake by Steven Barnes & Tananarive Due (review)
Domino Falls by Steven Barnes & Tananarive Due (review)
The Good Daughter by Jane Porter (review)
Mr. Penumbra's 24-Hour Bookstore by Robin Sloan 
Currently Reading
The Fifth Assassin by Brad Meltzer (audio)
The Lion Is in by Delia Ephron

Books to Complete This Week

A Future Arrived by Phillip Rock
Ex-Heroes by Peter Clines
The Burn Palace by Stephen Dobyns

What are you reading this week?
Tags:
It's Monday What Are you Reading This Week