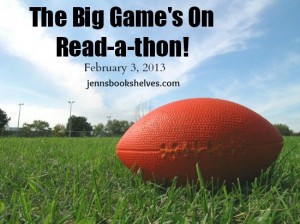 It's time to award those read-a-thon participants who did an outstanding job in this read-a-thon game!  They aren't selected based on how many books they read but their enthusiasm & energy!
Before I announce the winners, let's go over the prizes!  Each of the winners will be able to pick one book from this list.  The books that have been crossed out have been spoken for:

I've tried to list an eclectic list of books based on the diverse group of participants!
And now the winners!  The MVPs for The Big Game's On Read-a-thon 2013 are…
Congratulations to all the winners! To claim a prize, please email me at jennsbookshelfATgmailDOTcom.  Please list at least a few of the books you'd like in the list in the event that your first choice is taken.
I'll be contacting the winner of the mini-challenge later today!
Thanks again to all who participated!