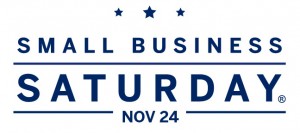 Unless you've been living under a rock, you know already how much supporting local businesses, specifically local independent bookstores, is to me.  I don't ask you for much, right? Well, today I am.
Small Business Saturday® (November 24th) is a day dedicated to supporting businesses that support the local economy. Although I will be hosting Thankfully Reading Weekend, I do plan on taking a break to shop local. Set between Black Friday and Cyber Monday is this special day to show support of local small businesses nationwide. Last year, over one hundred million people* came together to Shop Small® in their communities on Small Business Saturday®.  Let's see if we can increase those numbers for 2012.
It's really simple: just shop local! While I'd like you to do this every day, make a conscious effort on Small Business Saturday to shop local stores, be it coffee shops, bakeries, or in my case, bookstores!
Because of this tremendous event, this week's #IndieThursday will be celebrated on Small Business Saturday. Use the hashtags #smallbizsat and/or #IndieThursday to share how you have helped support the local economy. To learn more, visit ShopSmall.com.
This is such a simple but important request. Go forth & shop local!