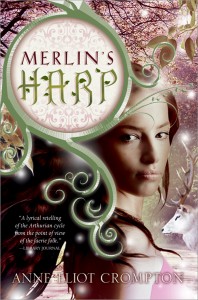 Reading level: Young Adult
Paperback: 256 pages
Publisher: Sourcebooks Fire (March 1, 2010)
ISBN-10: 1402237839
Source: Publisher
Back of the book summary:
Nivienne never thought she'd be in direct contact with barbaric Humans-let alone help them  She's only heard stories of the evil that occurs outside the forest.  But her dear friend Merli has brought word that Arthur's kingdom-where Humans dwell- is threatened by the Saxons.  If Nivienne doesn't help, it could be the end for her own peaceful home.  Nivienne must now learn to trust the Humans and her heart.  Even more difficult than going to war alongside your enemies is discovering you are falling in love with them.  Anne Eliot Crompton will immerse you in a world of fantasy, passion, and adventure.
My review:
Let me start off by saying I really wanted to enjoy this book.  I love to read tales about Arthurian legends and the like, and after reading the summary, I was instantly drawn to the book.  Unfortunately, that attraction waned within a few pages.  Crompton's writing is beautiful, I grant her that.  But it's so exceedingly flowery and complicated it was very difficult to understand and get interested in.  I found myself rereading passages in attempt to gain understanding of what the author was trying to say. I probably comprehended one sentence out of every paragraph and unfortunately I don't feel that it's going to keep the attention of the intended audience. The complicated prose also prevented me from really meshing with any of the characters.
Following is an excerpt of the writing so you can form your own opinion:
Merlin's Harp Chapter 1 Excerpt
In the end, I don't know if I could honestly recommend this book to anyone, other than someone who isn't restricted by excessively complicated writing.  It's unfortunate as I was hoping this book would make the world of King Arthur exciting again to youth.  The intent was there, but perhaps not the follow-through.
Following is a list of other blog stops on this tour: