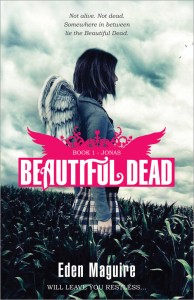 Paperback: 288 pages
Publisher: Sourcebooks Fire, March 2010
ISBN-10: 781402239441
Source: Publisher
Four teenagers from Ellerton High have died in the past year: Jonas, Summer, Arizona and Phoenix. All have died under mysterious circumstances. Darina, Phoenix's girlfriend, is trying to deal with the loss of her boyfriend. She begins to hear the sound of wings beating in her head and then one day, Phoenix appears before her. He tells her about the Beautiful Dead: souls that are unable to pass on to the afterlife. Their bodies are in limbo until they can right the wrong that caused their deaths. They each have one year to solve the mysteries of their death before passing on. Each of the Beautiful Dead have superhuman powers, including the power to erase the memories of those that are living. They are also all marked by a tattoo of angel wings. Darina has been given the special privilege of helping each of them find the answers to the questions surrounding their deaths. But as Darina begins to investigate their deaths, she unveils information that might be best left undiscovered.
This is the first in a series of four books by Eden Maguire; each will focus on one of the Beautiful Dead. Overall, I enjoyed this book. It started off a little slow but the intensity picked up as I continued reading. While the focus of this book is Jonas, we learn a great deal about the relationship between Darina and Phoenix. The character of Hunter, the watcher of the Beautiful Dead, has a bit of mystery surrounding him. I look forward to learning more about his character and of the rest of the Beautiful Dead, in the subsequent books.  Maguire's writing style is very readable and flows well.   I'd be remiss not to mention the gorgeous cover, it alone will make you want to pick up the book and read it! Beautiful Dead: Jonas Bk.1 (v. 1)
is a short and quick read. I recommend it to fans of YA and the paranormal.