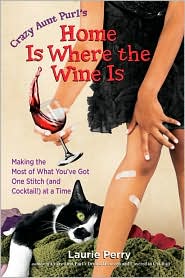 Paperback: 224 pages
Publisher: HCI; Original edition (February 1, 2010)
ISBN-10: 075731368X
Source: Publisher
In her debut, Drunk, Divorced & Covered in Cat Hair, Laurie Perry gave people an inside look at her quirky life as a recently divorced woman.  Now in Home Is Where the Wine Is
, it's the beginning of a new year and Laurie is ready to move on with her life.  She comes up with a list of resolutions for the following year:
1. Explore New Paths to Enlightenment
2. Take an Adventurous Trip
3. Knit Something that Isn't Square
4. Go On a Real, Live Date
5. Grow A Garden.
6. Deal with My Issues
7. Try Something New (and not just new foods)
8. Do some other form of exercise other than knitting.
Each chapter of the book is then broken down into each of her resolutions. Her lessons on life that she uncovers while completing her resolutions are laugh-out-loud funny!
One of Laurie's resolutions is to exercise. Following is an excerpt of a scene in which Laurie "responds" to a body's natural "reaction" to yoga:
I laughed the loud, spontaneous way you do without first wondering if it is appropriate to be laughing.  And as soon as I realized that no, it was really NOT ok to these people (who take yoga very seriously) that I was laughing at  a perfectly natural bodily function, I tried to stop laughing, but I couldn't.  I was too far gone.  I had become that horrible girl who keeps on trying to be quiet in a serious situation but ends up laughing so hard she's crying, tears streaming down her cheeks and sides hurting from laughing so hard.  I was that awful, disrespectful girl…I was asked to leave the fancy yoga studio.
Several times throughout the book, I actually forgot I was reading a book!  Laurie's tone is very conversational, like she's talking to you directly. You get to experience her true feelings, no some second-hand narrative of her life. And, yes, while the book is absolutely hilarious, it's also good for the soul. Laurie shows us all how to live our lives at their fullest, and how to have a good time while doing so!
We wake up each day and make it as good as it can be by deciding to see our lives as a continuum, not as a goal or a resolution on a piece of paper. Meet a goal and it's over, on to the next goal!But a life lived for harmony, for balance, for goofiness, for jokes…that is living. It's the tiny spaces in between the big goals that let me live…It's so simple.  It's not the resolutions, the tidy endings.  It's all the tangles that make up a life.
As a special bonus, the book is full  of recipes (fried zucchini!) and knitting patterns, including:
* Personal Massager Cozy
* Quick Knit Date-Night Bag
* Felted Wine Bottle Cozy
* Wine Glass Flip-Flop Coaster
* Knitted Swiffer Cover
And, in case you haven't guessed it by now, I highly recommend this book!  I recommend this book for every woman: a young twenty-something just really entering the dating world as well as a forty-something woman having to face the dating world for the first time in over a decade.  Perry's writing will speak to every woman.
Laurie Perry knits and writes in Los Angeles, California, where she chronicles her daily life on her online diary, Crazy Aunt Purl. She has been featured in the Wall Street Journal, MSN.com, Vogue Knitting, the Boston Herald, and The Palm Beach Post. Perry has written for the Los Angeles Daily News and the Winter Haven News Chief in Winter Haven, Florida. She is the author of Drunk, Divorced & Covered in Cat Hair.
Follow Laurie on Twitter and check out her blog Crazy Aunt Purl.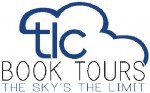 Thank you to TLC Book Tours for giving me the opportunity to participate in this tour!  Please be sure to check out the other tour stops this month:
Monday, February 1st:  She Just Walks Around With It
Tuesday, February 2nd:  Jenn's Bookshelf
Wednesday, February 3rd:  One Person's Journey Through a World of Books
Thursday, February 4th:  Diary of an Eccentric
Monday, February 8th:  Knit and Tonic
Tuesday, February 9th:  You've GOTTA Read This
Wednesday, February 10th:  A Novel Menagerie
Thursday, February 11th:  Wendy Knits
Tuesday, February 16th:  Luxury Reading
Wednesday, February 17th:  Rundpinne
Thursday, February 18th:  Knitting Knot
Friday, February 19th:  Knit Read Cats Hockey
Monday, February 22nd:  Bookfoolery and Babble
Tuesday, February 23rd:  Booking Mama
Wednesday, February 24th:  Gaysknits…
Thursday, February 25th:  Stumbling Over Chaos
Friday, February 26th:  Tripping Towards Lucidity
On to the giveaway! I have five copies of Home is Where the Wine Is to give away!
This giveaway is open to residents of the US & Canada only. 

To be entered, you must complete the form below

.  Winner will be announced Monday, February 15th.